U2


Songs Of Innocence
Island Records [2014]


Fire Note Says: Surprise – you just received a new U2 album.
Album Review: So last Tuesday not only did we get a bigger iPhone but also a free U2 record already placed in our iTunes purchase page. Wow – that was better than the pay what you want for the new Radiohead album In Rainbows back in 2007. Or was it? We could debate for quite some time whether this move by Apple and U2 was good, bad or just a little creepy and we could continue to laugh at people tweeting "who the hell is U2 and why are they on my phone?" but it is probably better to just get down to the music that makes up Songs of Innocence, U2's first album in five years.
U2 says that Songs of Innocence represents two years in the making and Bono added that they wanted to make a very personal album. Hearing this made me take an optimistic step into this album becuase if there ever was a true return to form from U2 I wanted in. Opening track "The Miracle (of Joey Ramone)" represents Bono finding comfort with his singing voice because he feels Ramone had a similar pitch. The song is all U2 with Bono's soaring versus and the punkish chords that give the song that undertone of a muscular punch which the band has provided in the past. The only issue is that the song does not quite have that special hook. It tries and tries hard but just keeps reaching a little too much for me to buy in. The following song, "Every Breaking Wave," has a much more Coldplay vibe than a U2 heart. From its soft entry to the mid-tempo chorus this song once again tries but does not stand out. This pattern plagues Songs of Innocence till the end. This was not my initial feeling on this batch of songs but after repeat spinning most of the tracks felt more distant.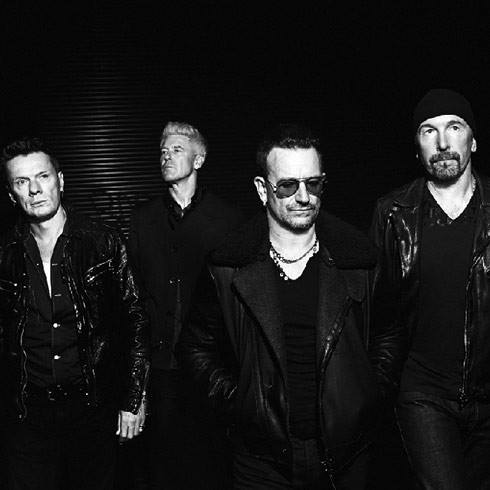 There are still some interesting things here, besides being free, that U2 fans will like. I think the crawling "Sleep Like A Baby Tonight" is the best track as it has a sincere delivery that finds Bono hitting a high falsetto while the synths blurb in and out and the band deconstructs the music on its last third. It is a modern progression that you want to hear while still being U2. Their Beach Boys chant tribute that starts out "California (There Is No End to Love)" is catchy while "Volcano" contains some solid guitar chord progression and one of the biggest choruses on the album. On the closing track, "The Troubles," U2 gets vocal help from Lykke Li which I think was a great move as she is an upcoming talent that blends well with Bono and helps Songs of Innocence end on a positive note.
I have always liked U2 and if they really were honestly looking back they would lose producer Danger Mouse as I don't think he currently is the right fit for rock (see Black Keys Turn Blue). I really would like to hear a truly raw U2 that is filled with energy, guitar, and a little sweat. Songs of Innocence is not that record as it swings for the big fences but falls a bit short of giving an honest effort. Sure, many U2 fans will get on board here but forget the $100 million from Apple, forget that this record just showed up, forget that people are trying to get it off of their devices and remember what made albums like War, The Joshua Tree and Achtung Baby so engaging. That is the personal U2 I would like to hear on the follow up Songs of Experience.
Key Tracks: "The Troubles" / "Sleep Like A Baby Tonight" / "The Miracle (of Joey Ramone)"
Artists With Similar Fire: Coldplay / Snow Patrol / Doves
U2 Website
U2 Facebook
Island Records
– Reviewed by Christopher Anthony

Latest posts by Christopher Anthony
(see all)