Tweedy


Sukierae
dBpm Records [2014]



Fire Note Says: Sukierae paints a musical portrait of a talented family in a challenging transitional period.
Album Review: It's never been all that obvious that Jeff Tweedy, the creative center of the thriving indie alt/rock band Wilco, ever needed to step out and make a solo album. He was after all the "creative center" of Wilco, taking over the band's original line-up lock, stock & barrel after Tweedy and Jay Farrar broke up Uncle Tupelo. Over the course of the 20 years (has it been that long?) since, Wilco's personnel has evolved around Tweedy, but no one doubts that he rules the roost.
That makes this sprawling 20-track release more of a family project, as Tweedy this time out finds father Jeff supported and prodded on drums by his teenage son Spencer. There are a few instrumental embellishments here by veteran player Scott McCaughey and background vocals on a few of the more deliberate pop songs by Holly Laessig and Jess Wolfe of Lucius, but mostly it's all Tweedy all the time.
Alongside his drummer son, Jeff writes, plays most of the instruments and directs the production. The collection's title, Sukierae, is the family nickname for Jeff's wife/Spencer's mom, Susan, who at the time was in treatment for non-Hodgkin's lymphoma, which might explain the somewhat somber tone that dominates even the liveliest of the pop songs. As a family project in the face of an ominous challenge, Sukierae is a window into their emotional lives as they seek a positive outcome in what goes on when you are forced the confront the fragile reality of our lives in these vulnerable bodies on the edge of the mortal coil.
As in the stages of reckoning with disease (and possibly death – although we understand Susan's health has improved), Tweedy's songs move from anger ("Please Don't Let Me Be Misunderstood," the loud lead track) to denial ("Nobody Dies Anymore"), bargaining ("New Moon") and so on. Musically diverse at the front in, it seems to settle into a pop groove in the middle, and then a series of folky ballads round out the last third of the disc, but sonic surprises are extended throughout.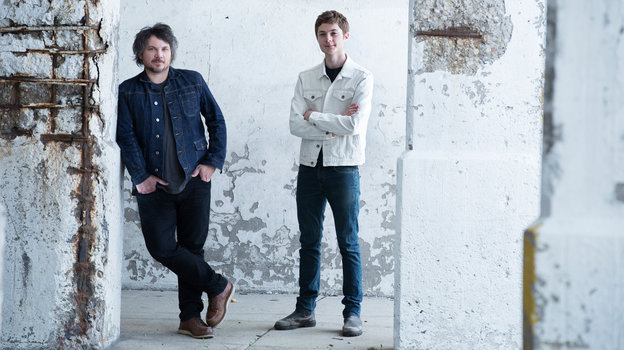 As with the lyrics in Wilco, Tweedy never addresses his wife's illness directly, but this long, diverse songscape reveals the hills and valleys of the journey through this rough terrain. Not surprisingly, most of the best songs here feel like love songs: "Low Key," "Flowering," "Down From Love," and "Where My Love."
Edited to 12, even 14 tracks, this album minus some of the noisy filler ("Diamond Light Pt. 1," a fun, weird excursion into the psychedelic), Sukierae might be a stronger listen overall. Its length requires listener commitment, but I've read that Jeff had 90 songs written and they winnowed them down to this collection, so it could have been longer. Still, more is not always better, but for the discerning listener and long-time fan of Tweedy's work, Sukierae paints a musical portrait of a talented family in a challenging transitional period, with enough strong songs that stand on their own right.
While not quite up to Wilco's catalog, this listener who remembers seeing the original Uncle Tupelo trio in Cicero's Basement Bar in St. Louis back before they had a recording contract and Cicero's still had a basement, this outing recalls the early experiments between Tweedy and Farrar. A bit primitive, and with little at risk, they wore their feeling on their sleeves and cast the noisy results into the wind.
Key Tracks: "Low Key" / "I'll Sing It" / "Flowering" / "New Moon"
Artists With Similar Fire: Wilco / Jason Isbell / Neil Young

Tweedy Website
Tweedy Facebook
dBpm Records
– Reviewed by Brian Q. Newcomb
Latest posts by Brian Q. Newcomb
(see all)