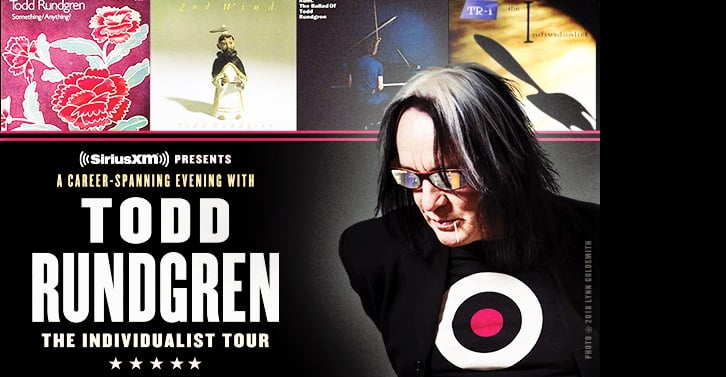 Todd Rundgren; The Individualist Tour; The Taft Theater, Cincinnati, OH – Wednesday, June 5, 2019
Two decades into the 21st Century, Todd Rundgren, noted rocker, producer, and now author, may not be a household name, but for a faithful audience of fans he remains an artist worthy of our time, attention and hard-earned cash. In the online voting for last year's nominees to the Rock & Roll Hall of Fame, Rundgren came in third just missing the necessary support to be inducted, but longtime fans assert that his string of radio hits in the 70's ("Hello, It's Me," "I Saw the Light"), innovative classic rock albums ("Something/Anything," "A Wizard, A True Star"), continued creative out-put, together with his long list of production credits (including big-selling albums by Meatloaf and Grand Funk Railroad, and working with critical favorites like Patti Smith, Cheap Trick, New York Dolls, and many more), and continued presence on the touring circuit make him an obvious if neglected choice for inclusion.
Much of Rundgren's heralded career, along with an inside look into his relationships with other artists and the people and events that define him, and the ideas and revelations that informed his life, are chronicled in his new memoir/autobiography, "The Individualist; Digressions, Dreams & Dissertations," which was published this year in collaboration with his indie label, Cleopatra Records. Early on Wednesday night, after playing a few songs, Rundgren explained, "This tour is about the book, and the book is about me, so everything you hear tonight is about me," to laughter from the audience. "You'll leave here tonight knowing more about me than you ever cared to know." Of course, given the current cost of concert tickets, audiences want nothing more than the opportunity to get closer to the music, the artist and performer they've paid to see.
Curiously enough, by framing the concert around the book, Rundgren has been playing a solid 18 song set at the beginning of his shows that more or less works chronologically through his biggest hits, a decidedly strange thing for this artist who has become somewhat notorious even to many of his biggest fans for refusing to live solely in the past, doing what many classic rocker's do year after year: hit the road and "play the hits." Rundgren, who has released a new album every couple years, has become infamous for refusing to play requests shouted out by his fans, and insisting that he perform songs from his latest batch of material. To mollify his faithful fanbase, however, he's built some of his tours around revisiting some of his classic albums in their entirety, which means he's played some hits, but also many more deep tracks from his catalog, and last year toured with a reunited version of his group Utopia, performing two extended sets, the first emphasizing that band's early progressive rock leanings, and then a second around their later pop/rock sound, most of it, of course, written and produced by Rundgren.
So, Wednesday night's show, split into two sets, kicked off with the same 18 song set-list he's been performing everywhere, which to his fans' delight, more or less works chronologically through his career, including most of his biggest airplay hits, as well as a number of fan favorites. Rundgren's excellent five piece backing band, recognizable for working with him for decades now, came on stage while the opening to his 1974 album, "Todd," "How About a Little Fanfare?" played through the P.A. Todd entered and quickly counted out to beginning of "I Think You Know," the next song from that same album, a slow soulful ballad that reminding his fans of his roots in Philadelphia's R&B/soul music scene.
In quick succession, the band moved on to "Open My Eyes," a song from Rundgren's late 60's band, Nazz, with whom he first recorded the next song, the ballad that was his first big hit, "Hello, It's Me," which featured a nice sax solo from Bobby Strickland, who's been playing with Rundgren since the mid-70's. Rundgren explained that "Hello, It's Me" was the first song he'd ever written, about his break-up with a high school sweetheart whose father had turned the hose on our hero. Early on, he admitted, "I figured it was smart to write about a girl, as in this next song," which was "We Gotta Get You a Woman," a concert rarity for Rundgren over the years, which included video footage of go-go girls and cheerleaders from that early 70's era.
In a couple of these early songs in the set, Rundgren seemed to be testing out his voice, working out the kinks in his wide vocal range, trying out his falsetto on the higher notes, but by the time he got to "I Saw the Light," he was in control of his full range, and added a forced chuckle after the line, "It's not something that I'd say in jest." Also, Rundgren and second guitarist Jesse Gress played a sweet double lead, and while Rundgren may have avoided playing so many of his hits back to back in past, seemed to be enjoying the audience singing along, which continued in "It Wouldn't Have Made Any Difference."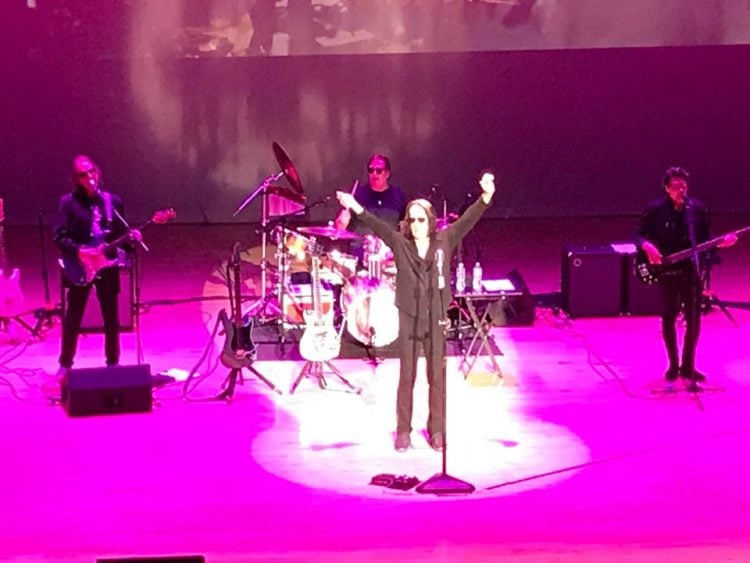 At this point, Rundgren explained to the crowd, which filled the floor of the Taft but only half of the balcony, that most of the songs thus far had been written on the piano, which led to a bit of concern from his guitar, this time a foam green Fernandes Strat-style instrument that he's been playing for years. The guitar was feeling neglected, he admitted, but before all these songs it had been "me and you, sleeping in the corner of bus depot's playing the blues like every other white boy with a guitar. So, I wrote this one for you," which was an introduction for "Black Maria," the classic rock mainstay from his solo tour de force, "Something/Anything." Evidently unhappy with the sound in his guitar, Rundgren didn't skip a beat, handing it off to his tech guy at the side of the stage and picking up his other instrument, only to play a masterful solo, full of guitar heroics worthy of his reputation as an ace musician.
Next up, was one of Rundgren's many quirky, playful novelty pop songs, which he seems to enjoy creating, "An Elpee's Worth of Toons," which he described as this sense of "calling," to make and produce music, making his living from the sales of what the song describes as a "plastic waffle." Of course, he commented that was in the heyday of vinyl, "before downloads." To accompany this fun musical aside, a video displayed the dozens of albums that Rundgren had produced, his solo works and albums with Utopia, as well as huge hits for the likes of Meatloaf, Grand Funk and Cheap Trick, as well as less well known classics with the New York Dolls, Bourgeois Tagg, and The Pursuit of Happiness, among many others.
"Sometimes I Don't Know What to Feel" followed, another slice of pop influenced by Rundgren's Philadelphia soul music roots, again with a solid sax solo, and strong vocal harmonies from his long-time bassist and fellow Utopian, Kasim Sultan. To introduce "Too Far Gone," Rundgren explained how he bought an "around the world" airplane ticket that allowed him to fly in the same direction to exotic locations, which was performed with a video backdrop that mixed his tickets and passports with film from far off locations that he had visited, and the cultures that influenced his thinking. Another lovely pop ballad sing-along came with "A Dream Goes On Forever," which included a lovely flute solo from Strickland.
Rundgren returned to his again abandoned guitar, this time the green Strat styled instrument performed valiantly as he put it through the paces on the big rocker, "The Death of Rock and Roll." "Can We Still Be Friends" was performed with a backdrop of photos from the back of his book, which included our hero with a host of other famous folk, including Patti Smith, Freddie Mercury, Iggy Pop, Ian Hunter, and David Bowie," with Rundgren directing his fans to sing out on the "la, la, la, la" chorus.
As we were getting to the final songs of the opening 90-minute set, Rundgren's song choices, which matched his career trajectory, turned toward songs with deeper meanings and purpose. "Real Man," which came out of his 1975 album, "Initiation," sounded like an exploration of spirituality and world religions. He followed that with "Love of the Common Man," a great sing-along anthem as well as a statement of purpose, that included another fine solo by Gress, and a subtle message of warning that it's "too late tomorrow," because "everyone is waiting, just anticipating." The next to the last song was a final burst of Beatlesque power pop, with Rundgren playing guitar on "Couldn't I Just Tell You."
They closed out the 18-song opening set with "Fair Warning," which benefitted from the great keyboards of former Cars member Greg Hawkes, and a jazzy arrangement that leaned on Strickland's soprano sax, but again that sense of foreboding that no one is going to fix what's gone wrong in the world, whether it's decades long wars or the environmental crisis, it's up to us, each one of us, to live and act in ways that will make a real difference.
After the break, Rundgren ambled on stage, changed out of his rock & roll uniform black into an "Individualist" t-shirt and what looked like pajama pants, and took ten minutes of Q&A about his life, responding to video recorded questions, as if part of a promotion for the book. There were signed copies at his merch table, available for $50. His answers touched on songwriting, the kerfuffle around his production of XTC, the coming February ocean cruise with Cheap Trick, and what a great guy Ian Hunter, who turned 80 last week, is to hang out with. Then, predictably for a "book tour," Rundgren brought the band back, and offered up the song which gave the book its title, from his more recent album of the same name, 1995's "The Individualist," which was a jazzier piece, with the singer rapping the lyrics to the verses.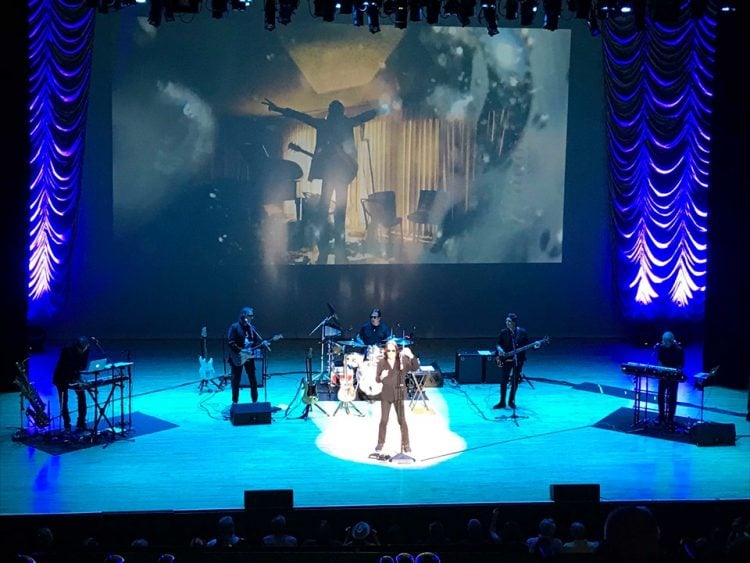 While the opening set, followed a strict script from other nights on this tour, Rundgren's approach in the second set has varied from night to night. And here in Cincinnati, he seemed motivated to show off his more experimental side, having allowed his pop hits to dominate the first 90 minutes. He strapped on a guitar for "Black and White," one of his more sophisticated rockers, this one from the "Faithful" sessions in '76. "Eastern Intrigue" revisited the spiritual curiosity of the "Initiation" album, with its request that "the real god please stand up," and several meditative "om" prayer breaks in the piece, with the whole band adding vocals toward one religious icon or another.
To emphasize his diverse songwriting capabilities, Rundgren pulled on a guitar for "Cliché," which he played with a more relaxed sense of melody, not the faster, hook-oriented pop he'd displayed elsewhere. "Honest Work" pushed off in an altogether different direction, coming from his 1985 album, "A Cappella." Rundgren, singing without any instrumental accompaniment, delivered the first verse solo, joined by Sultan singing harmony on the second, and Gress on the third, before again delivering the final verse solo. Written in the folk tradition, it was a reminder of what a great singer Todd is, and of his diverse influences and interests. Picking up his guitar again, the band dove quickly into "Kiddie Boy," again from his Nazz days, a song that hinted at early rock & roll influences, with Strickland playing a deep groove on a baritone sax, with the first guitar solo by Gress, and then a second one by Rundgren. I love hearing this guy play guitar, he's a monster.
And then switching gears dramatically yet again, Rundgren waved one arm as if conduction as he led Greg Hawkes on a keyboard that mimicked a full orchestra sound, balanced against Strickland on recorder and flute, as they played the lush ballad, "Kindness." It was lovely, the kind of serious balladry that you might expect to hear in a Broadway musical. And then closing out the second, 45 minute set, Rundgren, again on guitar led the band through "Determination," which included a great bass solo from Sultan, ending with the band quickly departing the stage.
For the encore, Rundgren turned to a staple among his most ardent fans, the closing song from "A Wizard, A True Star," "Just One Victory," with the entire audience still on its feet and singing along, as with so many other previous shows with this still beloved singer-songwriter. Todd Rundgren, supported by his 6-piece Utopia players before they'd started going by that name, was my first concert with a national touring recording artist, when I was 16. My friends and I had traveled to Buffalo to stand in a soft rain for a couple hours until in was dry enough for the free concert to begin. And to this day I remember singing along to some of the same songs we sang on Wednesday night, including this very same encore. Rundgren's fans, like this one, have held on to this music, and those feelings for nearly 5 decades now, and like many people in that room who had seen him live over 20 times, this was one more show to remember.
-Reviewed by Brian Q. Newcomb
Latest posts by Brian Q. Newcomb
(see all)