Tigers Jaw


Charmer
Run For Cover Records [2014]



Fire Note Says: Tigers Jaw's transitional new record finds the band trying to charm a new muse.
Album Review: I (very) briefly jumped on the emo bandwagon back in high school—mainly because it was the kind of music most of my friends at the time listened to ("just who is this 'Dashboard Confessional' and why does everyone like them so much?"). This emo wasn't the original stuff—I still love me some Sunny Day Real Estate, after all—but all those bands that were popular with the "scene kids." So with about a decade's distance from that sort of stuff, it's strange to review a record like Tigers Jaw's Charmer, an album with one foot firmly in that past and the other inching towards a more mature indie rock sound. While that tension doesn't guarantee that Charmer is a good record, it does mean that the results are interesting, at least most of the time.
Part of this split personality is due to lineup changes—last year three of the band's five members called it quits, though they did stick around long enough to help the remaining duo of Brianna Collins (keyboards/vocals) and Ben Walsh (guitars/vocals) finish this album. Tigers Jaw have a very guitar-centric sound, with Walsh handling lead vocals most of the time (though Collins does take the reins on a few tracks). There isn't a lot of variety in the sonic texture—uptempo, muscular rockers with those trademark "emo" (or "mopey" as some might put it) vocals over top. Often times it's not too different than the norm (think Taking Back Sunday, Emery, etc.), but when the band starts to experiment with less punky, more stretched-out song structures, things become a bit more intriguing.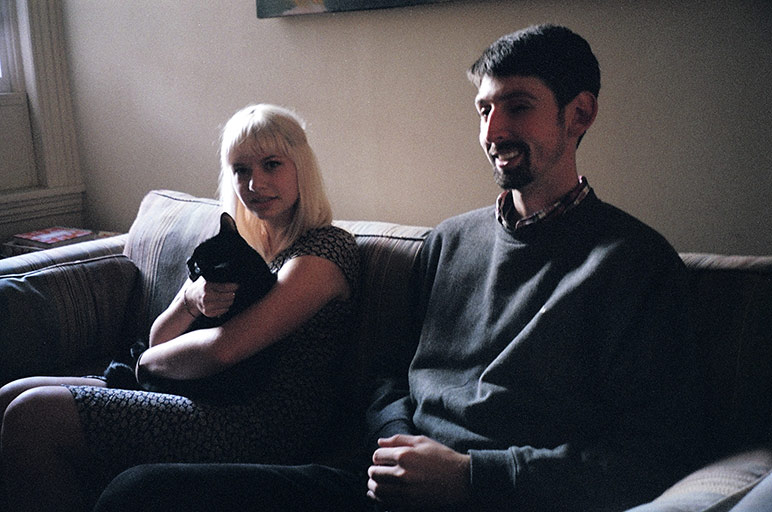 One example is "I Envy Your Apathy," a track that brings together subtle vocal hooks with guitar riffs that evolve and expand rather than just play the same few riffs over and over. "Hum" is a nice switch up, Collins and Walsh sharing lead vocals atop a mid-tempo instrumental track full of interlaced guitar lines. The opener ("Cool") is solid too, effectively blending both sides of the band's personality, while "Slow Come On" is an oddity, sounding almost like a grittier version of some early 80s post-punk band. Other highlights include the beefy rock sound of "Nervous Kids," the bass-heavy groove of "Slow Divide," and the brooding, melodic moodiness of "Softspoken."
Charmer isn't a bad album, but it's one that has two fairly distinct sides warring for dominance. Sometimes that can result in great records, but here the two halves don't quite gel most of the time, making for a disjointed listen. Fans of the band will be pleased that they got a final album from the complete lineup, but curious listeners may well need to wait another album or two before the band's new vision becomes completely clear.
Key Tracks: "I Envy Your Apathy" / "Hum" / "Slow Divide"
Artists With Similar Fire: Taking Back Sunday / Lakefield / Further Seems Forever

Tigers Jaw Website
Tigers Jaw Facebook
Run For Cover Records 

-Reviewed by Simon Workman

Latest posts by Simon Workman
(see all)