The White Stripes


Nine Miles From The White City
Third Man Records [2013]



Fire Note Says: Vault Package #16 captures The White Stripes at one of their highest points!
Album Review: When we last left our good friend Jack White, he was giving us an interesting-yet flawed-look at the past. Jack White and The Bricks Live On The Garden Bowl Lanes needed to exist but based on the styling and the live presentation it felt like a hampered experience. Maybe there where technical limitations (it was recorded directly to a 4 track reel to reel). Or maybe in 1999 Jack was unsure, still gaining his chops. Well my friends, I'm here to tell you that Vault Package #16 is the exact opposite of its predecessor. The White Stripes Nine Miles From The White City is a 26 song, 79 minute, live tour-de-force that is a shining encapsulation of the band we know as The White Stripes. The vinyl exclusive package itself is an homage to the 10th anniversary of Stripes' classic Elephant.
Recorded July 2nd, 2003 at the Aragon Ballroom in Chicago, Nine Miles From The White City pretty much nails the exact intensity, ferocity, and comfort of a Stripes' live show—I can attest to this having seen them live twice myself. I don't want to say that the show started off with a showstopper, but as soon as the molten feedback from Jack's Silvertone 1485 hits your ears, good things are bound to come. "When I Hear My Name," with its brute force and whammy octave changes had to have sheared the heads off of every crowd member in the ballroom. "Dead Leaves and the Dirty Ground" plays its part as intended but what is really exciting is a potent cover of Bob Dylan's "Love Sick." "Hotel Yorba" also comes off as bubbly and friendly as ever with an extended bluegrass-like intro.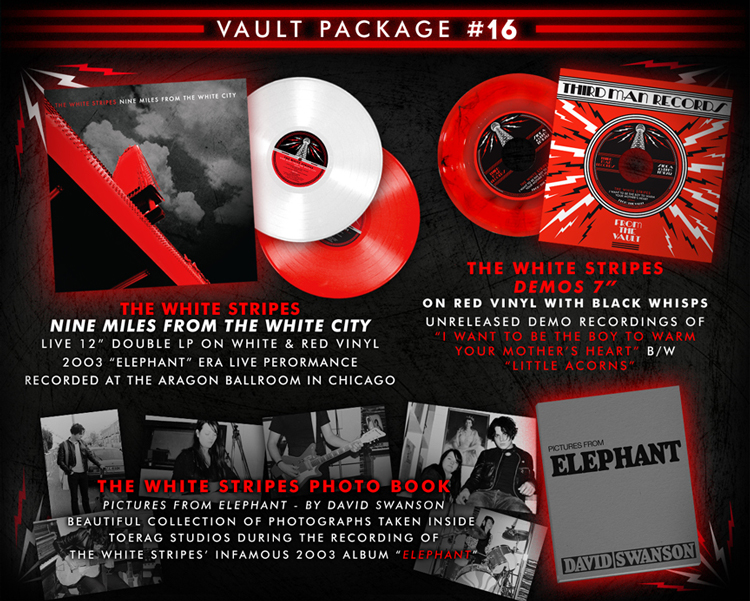 White has an off the cuff gift (no set lists were used for many Stripes shows) of weaving a White Stripes song tapestry frantically, loosely, and comfortably full of blues classics. This recorded show is no exception. Out of the crazy Stripes' instrumental "Aluminum" springs Tommy Johnson's "Cool Drink Of Water Blues." One of my favorite transitions on the record has to be the Robert Johnson medley of "Stones In My Passway" coolly to a s/t cover "Stop Breakin' Down." There's so much to mention here but other highlights include rare run-throughs of Captain Beef Heart's "Party Of Special Of Things To Do" and the Stripes Christmas tune "Candy Cane Children." Another of the many highlights finds White making a very human connection with the audience. During "We Are Going To Be Friends" White explains the lore behind the song, saying "I wrote this song in a girl's bedroom that could care less about me," but still gives a sweet shout-out to Suzy Lee at the end.
Every time I write a Vault review it turns out sounding like a biased love letter. The reason is that when I hear a Stripes' Vault project, live performance, or studio song, it reminds me of why I fell in love with the group in the first place. The bottom line is simple – if you have note checked out The White Stripes before – YOU SHOULD! Nine Miles From The White City contains all of the Stripes' best qualities. I doubt that Jack and Meg will ever reform, but it's releases like this that remind everyone why they fell in love.
Key Tracks: "Stones In My Passway/Stop Breakin' Down", "Cannon/Party Of Special Things To Do", "Ball and Biscuit"
Artists With Similar Fire: The Kills / Captain Beefheart / Son House
The White Stripes Website
The White Stripes Facebook
Third Man Records
-Reviewed by Christopher Tahy

Latest posts by Christopher Tahy
(see all)