The Men


New Moon
Sacred Bones Records [2013]



Fire Note Says: The Men take a risk again on fourth long player New Moon.
Album Review: Last year's excellent Open Your Heart from The Men took plenty of risks and each and every one of them paid off as it was the post-punk band's best record to date. The band never seems to slow down and the releases keep coming as The Men already return here with New Moon. This record once again finds the band going out on a limb and taking some new risks and different paths throughout the album's 46 minutes.
The Men pride themselves on consistently changing things up but regardless of what you do an album must still flow to make it all work. That issue shows its ugly head on New Moon and although the band still has some spectacular performances here the overall album does not have the same appeal as their last several records. New Moon is a tale of two sides as the album is front loaded with an Americana arrangement that for sure will make longtime fans double check that they put the correct record on. Opening track "Open The Door" starts off with a rolling piano before its overall Wilco delivery takes hold. The following "Half Angel Half Light" picks up the tempo but once again has the same country flavor and sounds like a Drive-By Truckers track complete with group harmonies. Now don't get me wrong – I love a great roots rock album like the next person but The Men feel a bit on the wrong side of the road here. This same style drives the first six tracks as it ends with the western instrumental "High And Lonesome".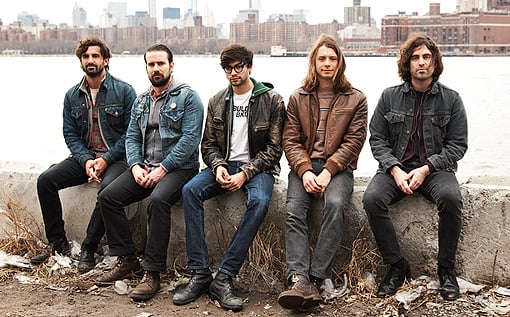 Alright – now click the switch as "The Brass" starts side two and brings back the post-punk rock n roll that we have come to expect from The Men. "Electric" follows it up and once again is another bombastic track from The Men that just rumbles along with their well-known controlled venom. Both of these songs represent why The Men are at the top of the post-punk scene right now and I guarantee these two tracks is why fans will stick around on New Moon. "I See No One" is an interesting track as it continues the more rock side of the band but incorporates a little Americana in its underbelly. This combo totally works for the group here just like the following slower jam "Bird Song" has the same impact as last year's twangy ballad "Candy" on Open Your Heart.
New Moon is definitely a tale of two The Men. It takes a risk and splits the record up but fails to remain cohesive. There is just too much of the same new folk-rock direction from The Men on the first half on New Moon to keep current fans interest because this is not their dominate style. The second half of New Moon is excellent and properly incorporates the Americana elements into the band's post-punk core. This core is given even more credit on the eight minute closer "Supermoon" as the song sprawls with reverb, distorted vocals, guitar romps and out of your speaker thumping drums that is a perfect finish which reminds you of why you tuned into The Men in the first place.
Key Tracks: "The Brass", "Electric", "Supermoon"
Artists With Similar Fire: Dinosaur Jr. / Drive-By Truckers / Pissed Jeans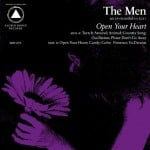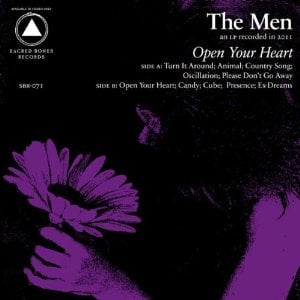 The Men: Open Your Heart [Fire Note Review 3/6/12]
The Men Website
Sacred Bones Records
-Reviewed by Christopher Anthony

Latest posts by Christopher Anthony
(see all)