The Libertines


Anthems For Doomed Youth
Harvest Records [2015]


Fire Note Says: This is what became of the likely lads, and it's as good as you hoped it would be!
Album Review: Much has been made of the reconciliation between dual/duel frontmen Carl Barat and Pete Doherty, and even more has been made of the fact that Doherty has reportedly cleaned himself up (let's hope so anyway). What gets lost in all of the mythology of The Libertines is the fact that they were wildly inconsistent on their albums, sure their debut Up the Bracket is pretty flawless, but their sophomore self-titled record is a wild mess, which gets by on attitude and tunefulness, but it was clear by that point that they had run off the rails, and while I really like the album, it's probably not as good as you remember it being at the time. I've spent the past few weeks going back through the combined back catalog of the band and their offshoots, Babyshambles and Dirty Pretty Things, and I have reached the conclusion that aside from Up the Bracket and the Babyshambles album Sequel to the Prequel, the new Libertines lp, Anthems For Doomed Youth is the most satisfying and consistently great record in their entire oeuvre. Anthems doesn't necessarily hit all of the highs that the band has hit in the past, but on the other hand, it doesn't delve into wank throwaway territory either, as the guys have been wont to do from time to time in the past.
It's clear from album opener "Barbarians" that some of the rough edges have been softened, but in no way does that negatively impact the song, in fact, it makes it abundantly clear that these guys have always known how to write some major pop hooks, this is a fine of example. However, as good as "Barbarians" is, it doesn't come anywhere near touching "Gunga Din" which I am going to go ahead and proclaim my song of the year. This one has all of the classic Libertines trademarks: the gang style vocals, the shifting gears in tempos, and the HUGE chorus. I have had this song in my head for a month. "You're My Waterloo" is a gorgeous and heartfelt piano ballad with swelling strings that really draw out the emotion in the lyric. Not surprisingly, the album is full of themes of love, reconciliation, recovery, and of course being a fuckup, but searching for redemption.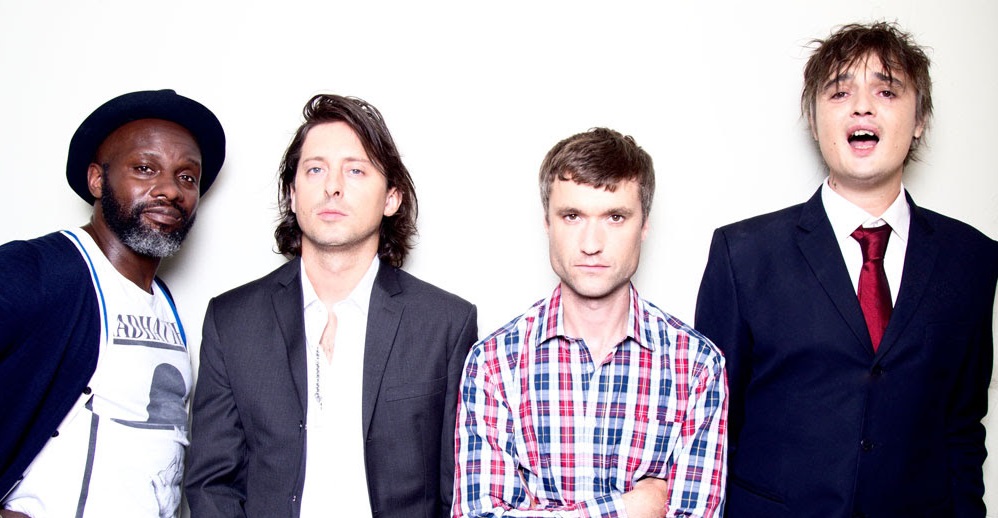 Let's be honest, this album could have been an absolute disaster, but instead it either becomes either one of two things, a fitting end to their discography, or a rebirth and like a phoenix rising from the ashes, the start of a new chapter in their career. I hope it's one, but I suspect it might be the other. Either way, you should check this one out. It's as good as you hoped and better than you honestly expected.
Key Tracks: 'Gunga Din" / "Fame and Fortune" / "You're My Waterloo"
Artists With Similar Fire: The Strokes / Palma Violets / Supergrass

The Libertines Website
The Libertines Facebook
Harvest Records
– Reviewed by Kevin Poindexter

Latest posts by Kevin Poindexter
(see all)