The Killers


Direct Hits
Island Records [2013]


Fire Note Says: The Killers' Direct Hits tracks the evolution of the band.
Album Review:
The Killers have been around long enough to put out a greatest hits album. This collection, Direct Hits, lets you see how The Killers began as a neo-New Wave outfit and turned into a rock anthem machine. One thing I really liked about this collection is that it is laid out temporally. "Mr Brightside" is the lead track and to this day is one of The Killers' best. Three more tracks are included from "Hot Fuss," the debut that gained the band a lot of attention. In my opinion it remains their best album to date and its tracks shine on this compilation.
You'll find all of The Killers' best released tracks on this album. I appreciate the attempt to include some lesser-appreciated songs from the band's catalog, but at 18 tracks it's safe to say that Direct Hits feels bloated. I'm going to offend the hard-core Killers' fans with this, but additions like "A Dustland Fairytale" and "Just Another Girl" seem to be present more for balance between new/old than based on quality.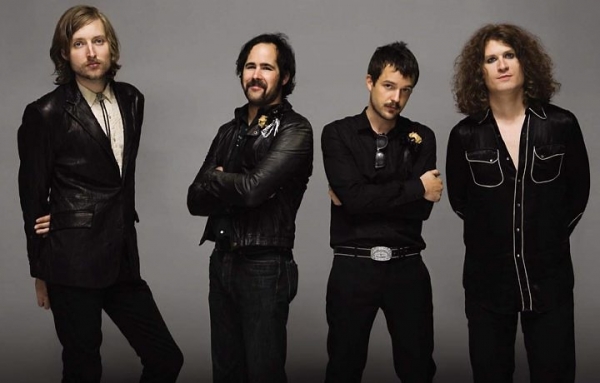 As for the three "new" tracks included on this collection: the original demo of "Mr Brightside" is somewhat stripped-down but doesn't reveal any new truths about the song. The album version sounds better. If you wanted a Calvin Harris remix of "When You Were Young" you're in luck. The rest of us will be pressing the skip button. It's not that catchy or novel when it comes to dance-ifying a rock song. "Be Still" is a ballad. A not very remarkable ballad. The three exclusive tracks here are nice thoughts but nowhere near must-haves, even for Killers' completionists.
As I mentioned in my review for Battle Born, the maturing of the Killers is evident with each album they've released. This growth, both musically and lyrically, is evident on Direct Hits. Some of the fever and energy of the youth could serve to invigorate The Killers of 2014 and beyond. That being said The Killers remain a talented band with great song-writing chops.
Key Tracks: "Mr Brightside," "When You Were Young," "Spaceman"
Artists With Similar Fire: Keane / Franz Ferdinand / U2
The Killers Website
The Killers Facebook
Island Records
-Reviewed by Matthew Heiner

Latest posts by Matthew Heiner
(see all)