The Flaming Lips


Oczy Mlody
Warner Bros. Records [2017]


Fire Note Says: Exiting their world of loveless doom, The Flaming Lips return with a brighter fairy tale.
Album Review: The Flaming Lips have been in the music game for at least 24 years. Within those 24 years they've made quite a impact from battling pink robots and wizards, messed with some dead petz, to recording a Christmas album, to celebrating Christmas on Mars, and having mixed results covering albums by the masters including King Crimson, Pink Floyd, The Stone Roses, and of course the Beatles. Their last album, 2013's The Terror left a lot of people including me in a very mixed position. While I can appreciate a change in artistic direction, I don't necessarily enjoy my Flaming Lips "dark." Their new album Oczy Mlody aims to fix that.
Oczy Mlody translates roughly from Polish to English as "Eyes of the Young. But to also paraphrase Coyne, the title also reminded them of oxycodone. While many Lips albums have felt grand, Oczy Mlody feels like one of their biggest with 7 members participating. In my opinion, Oczy Mlody's greatest appeals come from two men, original members Steven Drozd, Michael Ivins. The album feels less robotic because of the instrumental splashes these two provide. "Nigdy Nie (Never No)" has Wayne's falesseto crooning over some heavy beat based robo-funk. But, Drozd steals the show with a simple guitar twinkle that later gives way to Ivins' funkiest piece on the album-maybe in the history of the Lips. While some may say "Galaxy I Sink" is repetitive, Drozd's moody, guitar twilight adds a emotional weight as an orchestra seems to convey a theatric sunrise. "Listening To The Frogs With The Demon Eyes" has a really fun middle, moody moment that's guitar driven that really draws you in. To some listeners it could come off as meandering but, I feel that among the driving drum machines, it helps make the "clarity" all that more attention grabbing.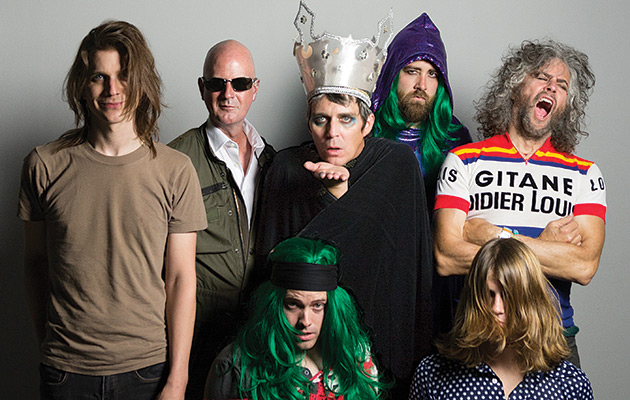 When instruments such as guitar and bass are sparse, Oczy Mlody still finds some spots to shine. "How??" is a slow burn that has a huge, weighty chorus where Coyne sings, "I tried to tell you but I don't know how," "I tried to tell you but I don't know how." "The Castle" is a fun beauty that's Coyne's self described "Puff, The Magic Dragon." I'd thought I'd never say this but, the album actually makes a case for Miley Cyrus. As one of the few guests on the album-the other being comedian Reggie Watts-Cyrus and Coyne's album ending duet "We A Family" is the "Do You Realize??" moment of the album-I hate to say it but, Cyrus absolutely ruined "Lucy In The Sky With Diamonds". Oczy Mlody could have come under higher scrutiny but the track is a fun and groovy cap to the musical mass that is Oczy Mlody.
To be honest, Oczy Mlody is truly a product of Miley Cyrus. Through the different music project Cyrus and Coyne are living vicariously through each other, the album itself takes some songs from the dead petz sessions. Even when songs like "There Should Be Unicorns" and "Do Glowy" don't work there's enough of this bubblegum encrusted, polish language inspired, fairytale sci-fi dystopia to enjoy. Will this be your favorite Flaming Lips album? Not necessarily. Will it grow on you with repeated listens? Perhaps.
Key Tracks: "How??" / "Nigdy Nie (Never No)" / "We A Family"
Artists With Similar Fire: Pond / MGMT / Black Moth Super Rainbow
The Flaming Lips Website
The Flaming Lips Facebook
Warner Bros. Records
– Reviewed by Christopher Tahy

Latest posts by Christopher Tahy
(see all)