The Flaming Lips


The Terror
Warner Bros. Records [2013]



Fire Note Says: Interstellar Oklahomans philosophize about a loveless life on The Terror.
Album Review: The Flaming Lips' The Terror reminds me of the saying "write what you feel." On their 13th studio album the band most certainly does just that. To quote Steven Drozd, "The Terror is that internal feeling that you and everyone you love are going to die." Let me be blunt here: The Terror is the most cold, calculated, and generated album that the Lips have written—at points it recalls the desolate feel of Christmas on Mars, or traverses into the Thom Yorke school of thought and texture. This is an album that's hardly going to have an impact on first listen. In fact, longtime fans might have feelings of disappointment, melancholy, and a longing for more—I have to admit that's what I felt at times. But you have to remind yourself that it's a Lips album, and the oddity/vision only becomes apparent with more listens.
The Terror finds the Lips once again paired up with producer Dave Fridmann (Tame Impala, MGMT, Neon Indian), and his presence is felt every step of the way. Derek Brown was also added to the band to help capture the grand vision. A couple of things become apparent while listening to The Terror, the first thing to really stick out being the lack of traditional instrumentation. On album opener "Look… The Sun is Rising," the band brashly attacks their guitars, and it's about all we get during the song. When I call the album "generated," I'm referring to the compressed air thud of the drum machine; it sounds blown-out, almost industrial. The track relies heavily on the cyclical repetition of the keyboards, as do many others. The title track is one song that also follows this pattern, with repeating keys that evolve into an inhale/exhale pattern against a standard backbeat.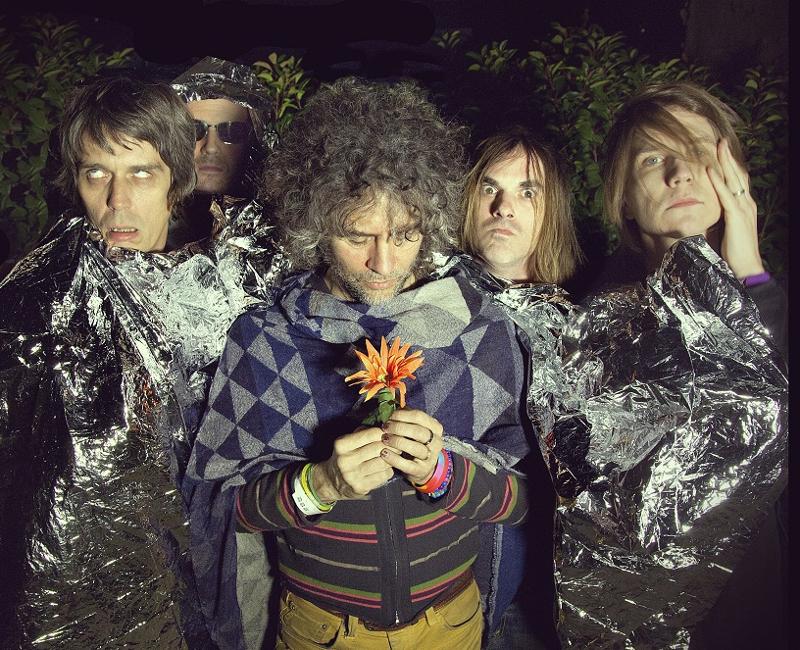 The second thing that I notice is that by making an album as electronic, cold, and calculated as this, the Lips' signature exploration of darkness and the unknown hits harder and lands more profoundly. It's these things that make the heavenly, galaxy-like beauty of songs "Be Free, A Way," "Try To Explain," and the 13-minute monster "You Lust" welcomed reliefs—"You Lust" in particular is a bit of a meander-fest, but the severe whisper of "Lust to succeed" really makes it stick with you. Other oddities include the buzzing windshield wiper repetition of "You Are Alone" and final track "Always There, In Our Hearts," which sounds like the final countdown of the doomsday machine. The track reiterates one of the main themes of The Terror: that sickening feeling of a life without love.
Wayne Coyne said, "If we have love, give love, and know love we are truly alive and if there is no love, there would be no life." The Terror is an album influenced by every member of the band emotionally, musically, and physically. Wayne split with his wife of 25 years, Steven had a bit of a relapse, and egos flared in some inappropriate ways. The attitudes of The Soft Bulletin (1999), Yoshimi Battles the Pink Robots (2002), and At War With the Mystics (2006) are barely given a nod here. The "pour it on thick" approach of Embryonic (2009) also takes a back seat, resulting in a bit of a departure. After many listens, this album solidifies the apparent transformation of the band into a darker version of the Flaming Lips. But if emotional doomsayers are the Lips you crave, then I say let The Terror spin on.
Key Tracks: "Be Free, A Way", "You Lust", "Butterfly, How Long Does It Take to Die"
Artists With Similar Fire: Stardeath & the White Dwarves / Mercury Rev / Atoms For Peace
The Flaming Lips Website
The Flaming Lips Facebook
Warner Bros. Records
-Reviewed by Christopher Tahy

Latest posts by Christopher Tahy
(see all)