The Dodos


Individ
Polyvinyl Records [2015]




Fire Note Says: The Dodos play to their strengths on Individ.
Album Review: The Dodos are the California-based duo consisting of Meric Long and Logan Kroeber. Their music has been defined through their now six albums as songs full of intricate guitar-playing and drumming. Long and Kroeber seemed to dial down that intensity on their 2013 release, Carrier. I found that album to be middling more than anything else. On Individ the band is back to the barbaric guitar/drum interplay of the past and avoids lyrical themes that don't get in the way of that music.
"Precipitation" captures everything that the Dodos do well in one six-minute track. A distorted, hypnotic guitar riff echoes during the first minute of the song. It's subdued and allows for the song to build and grow. Long's vocals serve as the third instrument for this and many of the other tracks on the album – they add enough to the mix without removing anything from the table. The guitar continues to build with relentless drumming that made me exhausted picturing the work put into it. "Precipitation" erupts two-thirds of the way with a chord change and guitar solo that reassured me that The Dodos were on top of their game when recording the album.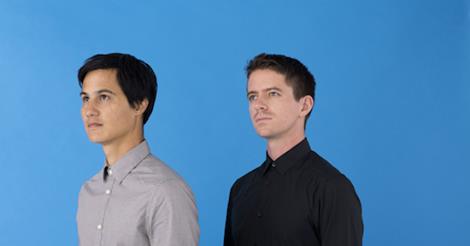 The album's next two songs, "The Tide" and "Bubble," keep up the pace that the opener provides. Drums prevail on "The Tide" with a guitar lick that serves as the chorus. It's an interesting idea to do away with the need for vocals during the climax of the song. That risk plays to the band's strengths and rewards the listener. "Bubble" is more of a puzzle in the way it fits together – Long and Kroeber dial the power down a bit. This respite is welcome after the virtuosic start to the Individ.
As a fan of percussion Individ is irresistible; Kroeber's work is both intricate and powerful, often at the same time. "Pattern/Shadow" ends the LP with another great performance on drums and guitar. The song's structure allows for the band to explore and break away from the rigidity of the preceding tracks. For those who like stories in their lyrics Long may not work for you, but I found his impressionistic style to complement the music perfectly. "Pattern/Shadow" builds to a crescendo that ends Individ on a high note, leaving me excited to start the whole thing over again.
Key Tracks: "Precipitation," "The Tide," "Pattern/Shadow"
Artists With Similar Fire: Grizzly Bear / Local Natives / The Shins

The Dodos Website
The Dodos Facebook
Polyvinyl Records
-Reviewed by Matthew Heiner

Latest posts by Matthew Heiner
(see all)