The Airborne Toxic Event


Such Hot Blood
Island Records [2013]



Fire Note Says: The Airborne Toxic Event swings for the fences with their third LP.
Album Review: The Airborne Toxic Event is a frustrating band. It's difficult for me to reconcile the different directions in which they pull me. At times their songs soar and resonate with me in profound ways. Take for instance "Bride & Groom," off their new album Such Hot Blood. The song is about the dissolution of a relationship and is laden with the different emotions that arise from such an experience, like sadness, anger, and relief. It has a sweet-sounding simple melody that erupts at the chorus with surprising with lyrics such as "I broke my hand on your car/When you told me you were leaving." The anachronistic lyrics lend a bittersweet flavor to the song that bring you in and demand you pay attention. Mikel Jollett has the ability to convey these myriad emotions with his vocal abilities; I usually enjoy his voice and find it to be one of the best features of The Airborne Toxic Event's work.
The problem lies in the emotional starkness that TATE employs most of the time. While it works in "Bride & Groom" and "Timeless," it falls flat on other tracks. "Timeless" is an arena ballad that plays with the idea of love being eternal. It precariously balances earnestness with self-awareness. Album opener "The Secret," not so much. Maybe it's because I abhor the book of the same name, but the message of the song is condescending and simplistic. I noticed that the lyrics use the second person "you" quite often; I was reminded of "Sometime Around Midnight" from their debut album. That device didn't work for me this time around as my strong reaction to it shows. "The Secret" is a big arena-ready song; I will give TATE credit for going big or going home. More often than not they succeed in going big on Such Hot Blood.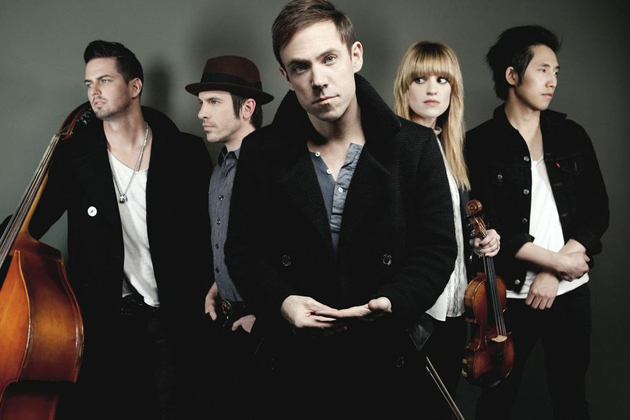 "True Love" is a song that begins softly and ends without much warning. It has a bass-and-piano opening that leads to vocal harmonies. It goes Arcade Fire-y with the harmonies and then breaks down into a 50's stomper in its third act. When The Airborne Toxic Event plays with that looseness and sense of fun they shine. "True Love" reminded me of "Gasoline" from their debut in that way. Sometimes TATE gets bogged down in its preachiness and dramatic gestures. When they wriggle out of that trap, like on "True Love," and say to hell with it, they are capable of great music.
Key Tracks: "Timeless", "Bride & Groom", "True Love"
Artists With Similar Fire: U2 / Snow Patrol / The Killers
The Airborne Toxic Event Website
The Airborne Toxic Event Facebook
Island Records
-Reviewed by Matthew Heiner

Latest posts by Matthew Heiner
(see all)