She & Him


Volume 3
Merge Records [2013]


Fire Note Says: She & Him embrace a higher profile as Volume 3 maintains their retro swagger.
Album Review: It is really crazy how many things have happened to Zooey Deschanel since She & Him's sophomore record was released back in 2010. She now has the Fox sitcom "New Girl", has been featured in a popular iPhone commercial, went through a divorce and was nominated for a Grammy for Best Original Song for the movie Winnie the Pooh. I think all of these pieces in her life outside She & Him definitely raised the expectations for this third record appropriately titled Volume 3.
The first thing you need to know about She & Him is that Zooey writes all of the original songs. My guess is that most fans probably don't know that tidbit. That element did not change here on Volume 3 as the record contains 11 Deschanel originals and 3 covers. With this record you can tell her experience has impacted her and improved her songwriting abilities. That is the progression you want to hear from any artist but I had some fear that her busy schedule would have complicated this project. That did not happen and I am sure music partner M. Ward helped keep things straight as the instrumentation once again supplies a classic 60's sunshine pop while the record also has guest contributions from NRBQ's Joey Spampinato, Mike Watt, Tilly and the Wall, Pierre de Reeder from Rilo Kiley, and Tom Hagerman from Devotchka.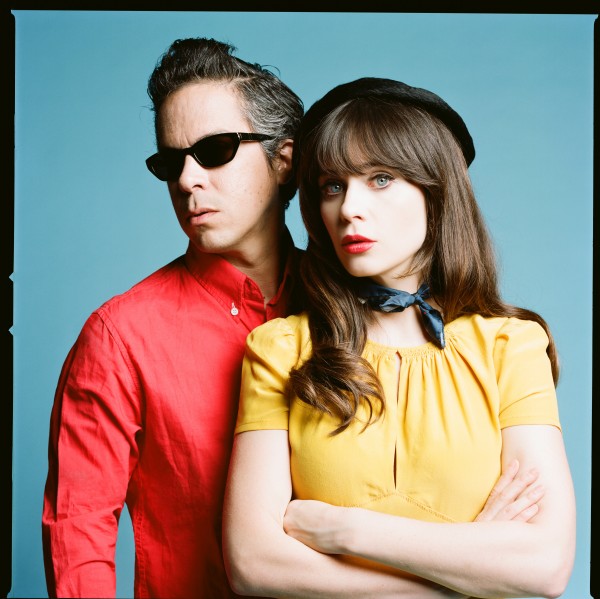 The songwriting here is stepped up as the lyrical content sometimes battles the swinging up tempos like on "Never Wanted Your Love" when Deschanel confidently sings the pre-chorus "I'm not talking to you anymore; I'm making my bed so I can lie there forever." This internal back n forth is what grabs your ear on several of these tracks like the pointed attitude that comes through on "Somebody To Talk To." The music of course is spot on with M. Ward driving the ship and is highlighted on "Snow Queen" with its complex tempo shifts that make the track stand out. With their style, the cover songs here are flawless especially on Blondie's "Sunday Girl" which takes on a new life with Deschanel's delicate handling of the track.
She & Him Volume 3 competes with the group's first two albums for the title of "best record". I do think that this album feels more focused from a songwriting perspective but is closely comparable with the style of Volume 1 and 2. This outcome makes the record an easy purchase for fans of the first two. I also think that with the higher profile of Deschanel, Volume 3 is an easy album for all her new TV followers to pick up and be instantly sold on She & Him that should firmly plant this duo on track for Volume 4.
Key Tracks: "Never Wanted Your Love", "Turn To White", "Sunday Girl"
Artists With Similar Fire: Best Coast / Loretta Lynn / The Bird And The Bee
She & Him Website
She & Him Facebook
Merge Records
-Reviewed by Christopher Anthony

Latest posts by Christopher Anthony
(see all)