Suede


Bloodsports
Warner Bros. Records [2013]




Fire Note Says: Suede comes back completely reinvigorated after their 11 year hiatus!
Album Review: Suede (The London Suede as they are billed in the US) is back after 11 years, and they are hitting the pleasure points in my brain like they haven't since their third album, Coming Up. The band left at an artistic low point with 2002's A New Morning, and by that point, I think most people were more than a little tired of not just Suede, but all things Britpop. I was curious to hear Bloodsports, and hopeful that it would mark a return to form for the talented Brett Anderson and the rest of the lads.
Bloodsports is full of dark and powerful songs that have a sweeping cinematic scope, yet also retain the cocky swagger of classic Britpop. The album is sequenced in such a way that it has three distinct parts, a beginning, middle and an end. The beginning starts off with a bang, and speeds along at a breakneck pace for three songs, and leaves you thinking that there is no way the band can keep the frantic pace up. "Barriers" is the lead off track, and it features Anderson's powerful voice front and center. The guitars, courtesy of Richard Oakes, are absolutely huge, and build to a huge chorus that will have your fist pumping in the air. "Snowblind" is another big rock song in the similar vein that yields the exact same positive results. "It Starts and Ends with You" is absolutely the centerpiece of the beginning section of the record. Everything about this song is perfect, all the way down to the superb production of Ed Buller. It's a real strutter that exudes coolness and cockiness. The chorus is guaranteed to lodge its way into your brain!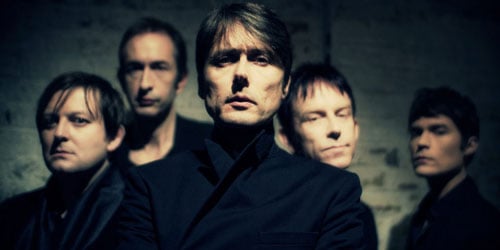 The middle of the record is darker and moodier. The songs, "Sabotage" "For the Strangers" and "Hit Me" are slowed down a bit (but just a bit), which gives them a bit more emotional impact. The hooks are still huge and the guitars still crunch, but the intensity is a bit more even keeled. Anderson's vocals really soar on these tracks.
The last four songs on the album mark the ending section of the record. Here the music is more atmospheric, and less cocky, but it also carries a feeling of overwhelming emotion. "Sometimes I Feel I'll Float Away" absolutely soars on a stunning guitar line and gorgeous vocal. It very easily could have been the closing song on the record, but instead, it flows directly into the just as sublime "What Are You Not Telling Me?" which crosses over into Queen territory in its grandiosity.
This is a remarkable record, and one that really sinks in after the second listen, but then again, Suede has always been that way for me. This is one helluva comeback record. The years away from the spotlight have been kind to the band, as they have come back completely reinvigorated and ready to ascend to the top of the heap once again.
Key Tracks: "Sometimes I Feel I'll Float Away", "Barriers", "It Starts and Ends with You"
Artists With Similar Fire: Pulp / Oasis / Blur
Suede Website
Suede Facebook
Warner Bros. Records
-Reviewed by Kevin Poindexter

Latest posts by Kevin Poindexter
(see all)