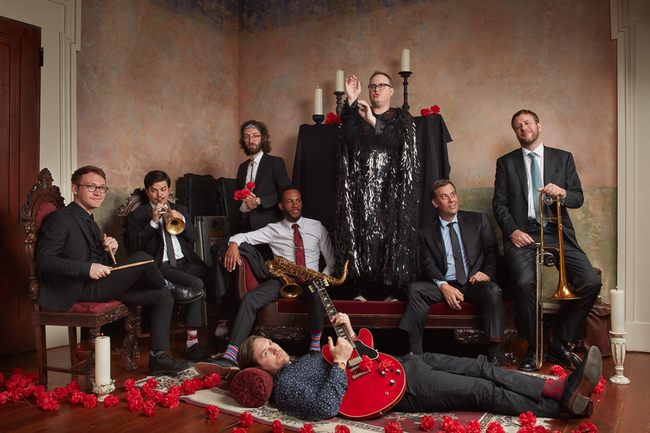 St. Paul & The Broken Bones; Taft Theatre, Cincinnati, OH – Thursday, February 22, 2019
Paul Janaway, lead vocalist and focus of attention in St. Paul & The Broken Bones, may have started his adult life as a preacher, but on Thursday night his only spoken message was quite brief: "alright, Cincinnati, it's time to move your ass." He made that comment as the fine rock n' soul review that is his 7-piece backing band were bringing the funk of "GotItBad," a song from their latest album, Young Sick Camelia, to its energetic climax. But, he didn't need to tell the nearly full Taft Theatre crowd much of anything by that point, as most of the floor had been on their feet since the beginning of the show, and those of us still sitting in the balcony were at least moving around in our seats.
St. Paul & The Broken Bones came up from the area of Alabama, in the shadow of Muscle Shoals, home of the famous Fame recording studios where groundbreaking albums with singers like Percy Sledge, Otis Redding, Wilson Pickett and Aretha Franklin were made, and thankfully, you can hear that same sound, that same spirit given expression in their music today. The Broken Bones' players brought an awareness of that tradition with them to the stage as they launched into one of the new album's favorites, "LiveWithOutU," guitarist Browan Lollar repeating the long yearning howl that opens the tune on the recording. From there, the drummer snapped his snare hard and the textured layers of this seasoned unit of soulful players found the song's central groove and locked in, as Janaway entered the stage wearing a long glittery cloak that recalls something that James Brown, the Godfather of Soul, might have worn on the stage.
The Broken Bones approach their material with a seasoned awareness that they are the support structures, that their music reaches its heights soaring on the high floating vocals of Janaway, an accomplished showmen. As they reach the end of the first number there's barely a pause to acknowledge the loud audience response before they've slid into the rolling bass-line intro of "Flow With It (You Got Me Feeling Like)," played by Jesse Phillips, as the musicians wove together a textured musical framework where Al Gamble's Hammond organ runs swell and fade to leave ample room for the full horn sound from the trio of Allen Branstetter on trumpet, Amari Ansari on saxophones and flute, and Chad Fisher on trombone and extra keyboards, creating the feeling of a much larger horn section.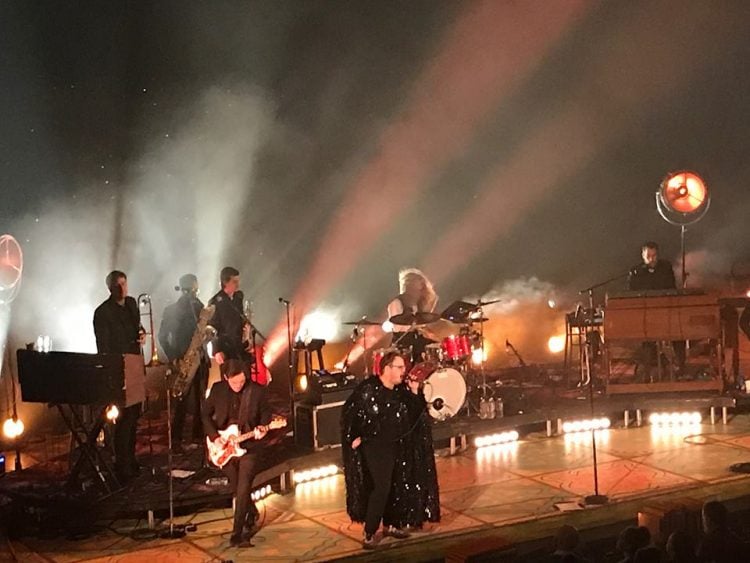 But Janaway demands, and gets, most of the attention. His larger than life voice, with a range that soars to the heights easily and often, struts the stage, winning applause with every shake and shimmy, and that fun Brown influenced move where he slides from one side of the drum riser to the other as if his shoes were sliding across an icy surface. The band had played two more, "All I Ever Wonder" and "Like a Mighty River," before Janaway addressed the audience, pointing out that they were on a stage that had been set up for the next day's run of the "Jungle Book." Pointing to the stacks of prop books that were piled in several places along the front of the stage, she said "We're not here to promote literacy, but we are certainly in favor of literacy."
Janaway, acknowledged that it was the last night of this run of their current album tour, saying that the strong response of the crowd, promised that it was going to be a good night to go out on, promising "we're going to give you all we got tonight, as long as you understand that we give as good as we get." He acknowledged it had been too long since they had played locally, but bemoaned the fact that they didn't have time to work up a "Jungle Book" cover, then introducing "Grass Is Greener," calling it a favorite from the band's 2014 debut album.
Starting out as a bluesy ballad, the song lent itself to Janaway's dramatic style, moving from a quiet whisper to a head in the clouds shouter by the end, all the implied drama and emotion suiting Janaway's voice to a tee. He did manage to squeeze in a reference to "bare necessities," before falling to his knees to deliver the song's pleading request for "time, time, time… please don't leave me."
At that point, Janaway left the stage as the band slid into the first of the night's two instrumentals, a jazz influenced number in the vein of classic sounds from Booker T. & the MG's, whose guitarist Steve Cropper and bassist Duck Dunn went on to play with the movie band, The Blues Brothers. Ansari played a jazzy solo on sax, before Gamble took a long run playing organ riffs and swells that recall Booker T. Jones, and then guitarist Lollar took a three part solo that demonstrated his ability to deliver a classic jazz sound, moving to a clean Strat style bluesy sound, and finally a distorted Gibson rock delivery, with some help from his effects pedals.
Janaway returned as the sharp recorded tones of "Mr. Invisible" were triggered, adding a strange tech tonal sound to the proceedings, not dissimilar to the melody that comes from a slowly turned "Jack in the Box" crank, before imposing a more traditional R&B song structure onto the recording, which included a fine synthesizer/keyboard solo from Gamble, while Janaway used a rhythm box to tap out some hip hop sounds, like a turntable scratching. With this song, the attention turned fully to newer material from Young Sick Camelia, and it's themes of space travel and the cosmos.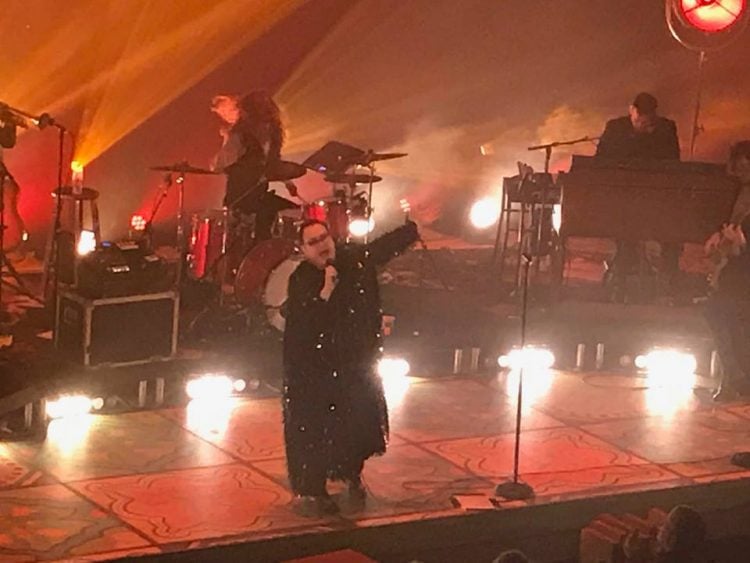 "Convex," with its catchy "spin around my thumb" refrain featured another bluesy organ solo from Gamble, which led nicely into "NASA" and the afore mentioned "GotItBad." The second instrumental gave Janaway another vocal break, and this time included a long trombone solo by Branstetter, followed by Ansari on sax, and the two trading off jazz licks. The full band returned to soul review form for "Apollo," one of the more lively and better received tracks from the new album, with full horn parts and another lovely synth solo.
They closed out the set proper with "Bruised Fruit," one of the most emotional raw songs in the band's repertoire, building from a very quiet piano and flute intro into a slow bluesy song that allows Janaway build the song up to its climax, touching on some palpably raw feelings which still grip the singer, who at one point had to pull out a handkerchief and wipe away tears. The song builds to a suitably emotional conclusion, with Janaway leaving the stage, followed in turn by the horn players, and brief solos from each one before they stopped, bowed to the crowd, and walked off, until it was just the piano and drums, and finally just the drummer.
But, they didn't leave the crowd long, as they received a standing ovation and calls for an encore. They returned quickly, and Janaway thanked the Cincinnati crowd for making their final show of the tour feel so fine, before introducing the song "Sanctify," a song that finds the connection between the musical genre's roots in the spiritual styles of the church on Sunday morning, and the more sensual rhythm and blues vibe of Saturday night. Next up was "Call Me," a song with a classic Otis Redding feel, that helped the band rise in stature after performing it on David Letterman (use the google to see it for yourself), and then they closed out the night with their signature song, "Broken Bones & Pocket Change," another shouter, with Janaway walking through the crowd, up into the balcony and then finally to the box above the audience on the right side of the stage, as the band wailed along with his careening vocals.
While much of the emotional tenor in these R&B songs comes from downer emotions – loss, loneliness, and uncertainty – the musical setting moves from deep connection, to understanding and celebration, best experienced in a crowd, in community. St. Paul & The Broken Bones tap that time honored vein, put their own creative stamp on it, and share that downhome Alabama goodness in the classic style of the rock & soul review, great, emotionally satisfying music that transcends trends with a timeless human connection.
-Reviewed by Brian Q. Newcomb
Latest posts by Brian Q. Newcomb
(see all)