Sloan


12
Yep Roc Records [2018]


Fire Note Says: Sloan shows no signs of slowing down on 12!
Album Review: Twelve albums with all the original members is a rare achievement in the music world these days but that is exactly what we get here from Halifax, Nova Scotia's Sloan. The band has returned with the appropriately titled album, 12, and it is another reminder of what makes a great power pop record.
With catchy anthems, memorable sing-alongs, and layered harmonies, Sloan hits you track after track with a tune you can hum. Its cohesiveness is surprising when you know that its twelve songs features three tracks written by each member of the band. Even though the group always shares in the creative process, 12 is the first record that has been divided up equally since 1999's Between The Bridges. You would never know this was the case though because 12 flows smoothly.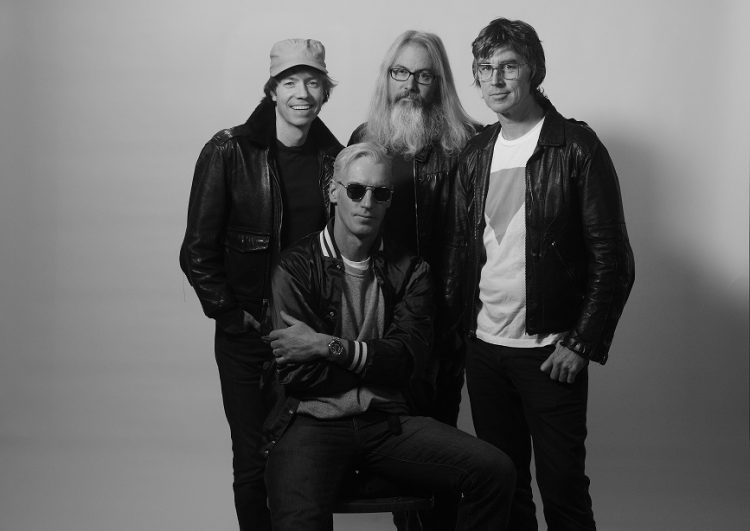 Lead off track and single "Spin Our Wheels" is right out of the 90's classic Sloan playbook with its killer chorus and indie guitar work perfectly fronted by Chris Murphy. The suspenseful build up in "All Of The Voices" is a muscular foot tapper that comes together when all of the band joins in and belts out the hook. "The Day Will Be Fine" will take you way back into Sloan's catalog because its guitars create some of the early buzz they were know for on Smeared (1993) while their vocals perfectly float just above the hum.
There are no tracks on 12 that should surprise anyone because Sloan plays this one right in their wheelhouse. Forty minutes of their signature Beatlesque power pop. For fans, this record is a no brainer as they should instantly be locked in because its catchiness builds quickly and after each listen grabs you even tighter. Sloan have always been a great example of what good songwriting and knowing your strengths can do for a band. In a time when you must look harder for indie rock acts to stand out, Sloan steps up and delivers another staple in their discography and another solid release for the indie genre in 2018!
Key Tracks: "Spin Our Wheels" / "All Of The Voices" / "The Day Will Be Mine"
Artists With Similar Fire: Nada Surf / Cheap Trick / Matthew Sweet

Sloan Website
Sloan Facebook
Yep Roc Records
– Reviewed by Christopher Anthony

Latest posts by Christopher Anthony
(see all)