Radioactivity


Silent Kill
Dirtnap Records [2015]



Fire Note Says: Silent Kill breaks the mold of what "punk rock" is supposed to sound like!
Album Review: Punk rock has been getting a bad rap over the last decade or so for not being creative, fresh or even fun. What once was a thriving genre, especially on college radio, is now one of the harder styles to find reliable information on. I like to think TFN still can steer you to the punk promise land from time to time and today it is all about the sophomore album from Radioactivity.
The quartet is comprised of veteran frontman and chief songwriter Jeff Burke (The Marked Men, The Reds, The Potential Johns) backed by Marked Men buddy Mark Ryan and two-thirds of another Dirtnap favorite, Bad Sports (Daniel Fried and Gregory Rutherford). Right from the scorching opening of "Battered", you know that Silent Kill is going to be another winner for the band. Especially, when the first minute of the short 2:18 track just features the band turning up the speed on guitar and drums. When Burke finally joins the show you are almost out of breath as he takes you to another level. This fever stays with you throughout Silent Kill for its full 27 minute total running time.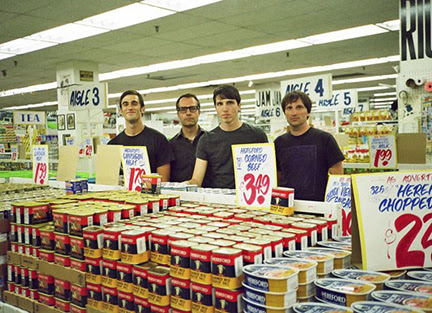 I think Silent Kill is just a touch more addicting than their 2013 debut but only by a small margin. When you compare the two, I feel Silent Kill flows somewhat smoother and finds its instruments popping out more with its production. Some of the credit has to be given to the band, as their familiarity with each other is paying off. The songs are tighter than ever and Radioactivity shines because of it. I also like that the band never feels the need to apply a faster tempo when it is not necessary. "No Connection" is the perfect example of this as it is the longest song on the record at 3:24 and has an enjoyable steady foot tapping beat with Burke's vocals way out front. Then there are moments when the band almost whispers its backing vocals in between versus. It is a new avenue for Radioactivity that works well. With that said, the band still shines on the speedy and melodic "I Know," while the attitude filled and short "No Alarm" is all punk, as the vocals are completely in your face as the music rides on a pogo as it comes in and out.
Regardless of your punk rock experience, I think you will like Radioactivity if you are into the garage indie scene. If you were making a playlist there is no reason their songs couldn't flank right up against a track from the Thee Oh Sees or Ty Segall. Silent Kill breaks the mold of what "punk rock" is supposed to sound like and it is completely fresh for 2015!
Key Tracks: "Battered" / "I Know" / "Not Here"
Artists With Similar Fire: Frankie and the Witch Fingers / Quarterbacks / Blank Pages

Radioactivity Facebook
Dirtnap Records
– Reviewed by Christopher Anthony

Latest posts by Christopher Anthony
(see all)