Quasi


Mole City
Kill Rock Stars [2013]


Fire Note Says: Quasi's eighth album is a head trip that encompasses every twist and turn the band has made in their 20 year existence.
Album Review: This long running Portland duo, Sam Coomes and Janet Weiss, have been making music as Quasi since the mid 90's. Janet's work as the drummer for Sleater-Kinney, Wild Flag, and as one of Stephen Malkmus' Jicks, overshadows the work of Coomes to a certain extent, but his pedigree is every bit is impressive if only a little less known having played with Elliott Smith in Heatmiser, as well as solo, and appearing on a whole host of records by some pretty impressive artists, including Built to Spill, Go-Betweens, Boston Spaceships, The Takeovers, and the list goes on. I tell you this, not because Quasi sounds anything like any of those bands, because they don't, I tell you this because fans of those other projects are doing themselves a disservice by not checking out Quasi's new album, Mole City.
I've come to the conclusion that this is the definitive Quasi album. That's not to say it's their best album, (that title goes to The Sword of God in my book) but it's certainly their most ambitious, and also the most representative of everything they have ever done in their career. At 24 songs and right at about an hour in length, Mole City is huge. It feels longer than an hour, but it goes by pretty quickly. The pacing of the record is all over the map, there are short pieces at a minute or so, and then there are a few that stretch things out a bit to the four and five minute mark. There are psychedelic, pop, rock, and instrumental music all represented here. It's as if this album was designed to be a retrospective album, only with all new songs.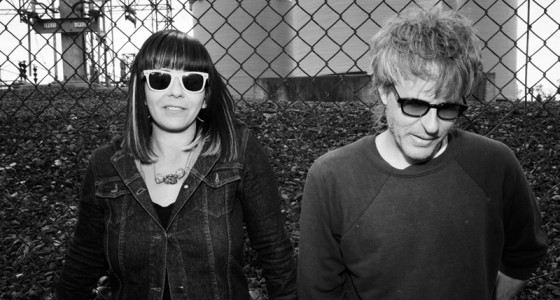 The record is frontloaded with some of the better pop tracks on the album. Songs like "See You on Mars" and "Blasted" work to draw the listener in to the album, and the further you get sucked in to the record, the more the weirder more psychedelic tracks on the record really start to toy with your mind. "Headshrinker" is a piano and drum driven tune that borders on krautrock with some bizarre looped backward effects. It's minimalistic and repetitive, but that repetition is what gets pounded into your brain. "Gnot" is another trippy short track that while strange, is also strangely catchy. The final third of the record is where things come back into focus, and as a listener you really get rewarded. Starting with "Dust of the Sun" and concluding with "New Western Way" Mole City really strikes gold. These are some amazing Beatlesque Abbey Road style psychedelic pop tracks. The songs flow together, creating a trippy mellow buzz of an ending to the record. Mole City will give you back what you are willing to put into it. It's a big sprawling record that takes a little time to unravel itself in your head.
Key Tracks: "Dust of the Sun", "See you on Mars", "New Western Way"
Artists With Similar Fire: Grandaddy / The Flaming Lips / The Beatles
Quasi Website
Quasi Facebook
Kill Rock Stars
– Reviewed by Kevin Poindexter

Latest posts by Kevin Poindexter
(see all)