Connections


Body Language
Anyway Records [2013]


Fire Note Says: Body Language continues Connections catchy lo-fi formula!
Album Review: Columbus, Ohio's Connections once again embrace their lo-fi roots here and hopefully don't mind that every article on the band always links them with Guided By Voices. This happens of course for several obvious reasons as Body Language is Connections second full length released this year, their music is clearly lo-fi rock n roll, several members grew up in Dayton, Ohio and they write tidy short songs. The good news for Connections is that there is a big difference between copying a band and being influenced by a band. Connections are definitely the latter of the two because like Private Airplane which was released this past February (TFN Review), Body Language has its own artistic statement and is an excellent follow up for the band that acts as a true second chapter and sophomore release.
Body Language follows a similar path that Connections already established on their debut but does tweak several components. One of these pieces is the creation of slightly longer songs. I am not talking crazy long but you now get 13 tracks in 30 minutes where Airplane gave you 15 in the same amount of time. Even the closing track, "Florida, Vegas, Tahoe" passes the three minute mark! The other essential part that showed its head on Connections debut but stands taller on Body Language is guitarist Dave Capaldi's J. Mascis sounding leads. Before he sounded more in a support mode but now on songs like the opener "Aimless" and the super catchy "She's Cheering Up," his solos are substantial sonic structures that make the songs soar.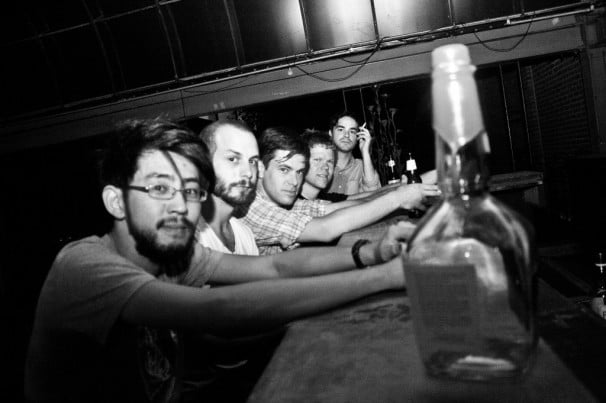 Another little difference that shows up on Body Language is the track "Green Skull." The song has this beating drum beginning before a surprising acoustic guitar strum takes over and singer Kevin Elliott's vocals come in crystal clear. The more ballad tempo then ends with Capaldi's electric solo. It is a bright moment on the record that is so simple and pure while showing that there is a larger complexity to Connections than you might have previously believed.
There are multiple short rock n roll highlights on Body Language, like the punk rock out of "Girl's Night Out," the smooth hum along singing during "Summer Creeps" and the fun slakerish vibe chorus in "Blurry Eyes." The record affirms Connections strengths that they showed on their debut, while including just enough diversity to keep the album interesting. Comparing the two records, I lean only slighty towards Body Language as being a little stronger because I really like the song structures with a bigger focus on the guitar. Both records are refreshing to hear as their lo-fi is executed to its full extent while Connections retain a strong rock n roll spirit. In fact, Body Language not only strengthens Connections hold in the indie scene but puts them in the upper tier of this genre and raises the anticipation for what should be a great album number three. If you like classic GBV or Sebadoh, Connections is a no brainer pick up and you better hurry because you now are two albums behind!
Key Tracks: "She's Cheering Up", "Green Skull", "Summer Creeps"
Artists With Similar Fire: The Gifted Children / Rare High / Guided By Voices
Connections Website
Anyway Records
– Reviewed by Christopher Anthony

Latest posts by Christopher Anthony
(see all)