PJ Harvey


The Hope Six Demolition Project
Vagrant Records [2016]


Fire Note Says: PJ Harvey's creative musical efforts suggest a hope that springs eternal.
Album Review: It's never quite clear whether PJ Harvey's latest project – her ninth full-length – is an art project exploring the exploitative nature of poverty tourism for political gain, or if it's a cynical look at an art project that exploits the nature of poverty tourism made possible by government's endless efforts to impose their own solutions on impoverished communities, neglecting to account for the fact that these ventures are inevitable failures, history repeating itself, ad nauseum.
In this current exploration of the do-gooder house of mirrors of progressive activism on behalf of the less-fortunate, it's not clear whether Harvey sees herself at the journalist/poet merely reporting on the world's brokenness and pain, or is she seeking to expose the repetitive nature of these ultimately exploitative relationships formed between those with programs of restoration and the necessary resources and power to accomplish their ends, and the troubled lives of those who cling to the hope of a better world, a better way to live.
One thing is obvious: the recording of The Hope Six Demolition Project began as part of an art installation in London, called "Recording in Progress." Viewers were allowed to watch 45-minute sessions through one-way glass, while Harvey, the record's producer Flood, and long-time collaborator John Parish, recorded the songs that would make up the record. The presentation also featured poetry by Harvey and photography by Seamus Murphy, which chronicled her travels in 2011-2014 to Kosovo, Afghanistan and Washington D.C., from her companion book "The Hollow of the Hand." It's been reported that these audience-attended sessions were filmed by Murphy for a future documentary film.
Obviously Harvey has a lot going on here all at once, so we'll try to keep our focus on the musical product itself, the 11-song album that is The Hope Six Demolition Project. The disc's title, and numerous song-titles reference the Anacostia neighborhood of D.C., and the "Hope VI" project of the U.S. Department of Housing and Urban Development to revitalize public housing projects into mixed-income developments that involved the demolition of troubling structures and the creation of a centralized main street and surrounding community.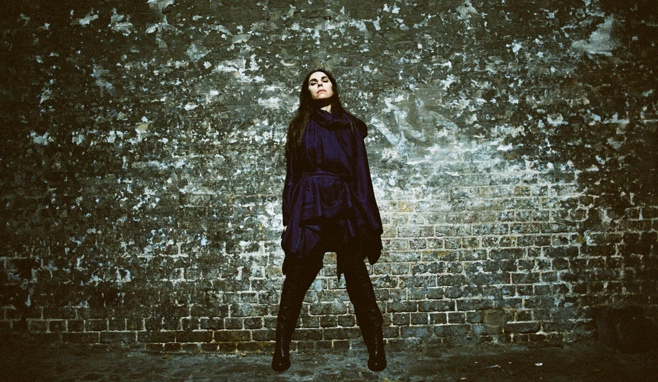 The complicated nature of relationships between the beaten-down and battered natives and the imposing governmental expectations is explored in the set opening "The Community of Hope," "River Anacostia," "Near the Memorials to Vietnam and Lincoln," "Medicinals" and elsewhere, and the music often matches the tension in the "point of fact" observations offered by a judgmental tour guide and the vulnerable broken lives of those being described. In the stark, tense stuttering rocker that is "The Ministry of Defence," (sic.), the observer watches the kids make their way through scenes of chaos, graffiti and human waste, but suggests that "kids do the same thing everywhere" before concluding "this is how the world ends." It's a dark portrait of the struggle toward human progress, a critique of top-down efforts to make the world look better without really doing what is necessary for the world to get better.
Here and again on "The Ministry of Social Affairs," Harvey taps her early blues influence, Howlin' Wolf, and echoes the howlin' pain of the world's groaning in an atonal sax solo worthy of Captain Beefheart. In "River Anacostia" Harvey recalls over a gospel vocal hum and a more primal drum beat, the biblical metaphor of a handicapped person lingering by a healing pool, waiting for God to move the water to make all well, but the waters have been poisoned.
Unlike some writers who take on politically sensitive narratives, like Bruce Cockburn, Billy Bragg or Rage Against the Machine," it's not at all clear that Harvey has identified with the restless, yet noble natives, or that she favors a progressive interventionist approach to problem solving, as much as she is making the effort to explore the inherent tensions at work in such tenuous relationships, and that tension serves her music as well as anything else.
In "Chain of Keys," Harvey explores the promise of efforts to replace old housing with new habitats for humanity, before she concludes that "the circle is broken." "Medicinals" compares the natural remedies that once grew in the open fields now dominated by urban advances, and the cheap path of self-medication readily available as 40 oz. painkillers. It's a bleak, dark view of modern life and our efforts at progress and political solutions to social problems, but Harvey's always creative musical efforts suggest a hope that always springs eternal.
Key Tracks: "The Wheel" / "The Community of Hope" / "The Ministry of Social Affairs"
Artists With Similar Fire: Tom Waits / Siouxsie & The Banshees / The Clash
PJ Harvey Website
PJ Harvey Facebook
Vagrant Records
– Reviewed by Brian Q. Newcomb
Latest posts by Brian Q. Newcomb
(see all)