PAWS


Youth Culture Forever
FatCat Records [2014]



Fire Note Says: PAWS are poised for their breakthrough moment with their sophomore effort!
Album Review: PAWS burst onto my radar with their 2012 debut album Cokefloat!, which rushed by like a sugar addled adrenaline rush. I thought it was a promising debut and though not terribly original, it sure did make up for it by being fun! The Scottish trio from Glasgow are back, and I can't believe my ears, man they have gotten better, a lot better. They have slowed down the tempos without sacrificing the tunes and their second album, Youth Culture Forever, benefits greatly because of it!
While the punky energy might be dialed back a bit, that's not to say the band isn't still exciting, hell tracks like "Let's All Go" recall the high fiving enthusiasm of Japandroids at their Celebration Rock finest. When not calling to mind that band, I am constantly reminded Okkervil River, another longtime favorite of mine. Perhaps it's the slightly distorted vocals, but on slower tracks, in particular "Owls Talons Clenching" the band is darn near a dead ringer for the Austin, Texas band. "Erreur Humaine" opens the record, and lets the listener know that they are in for something different. The band experiments with the quiet/loud/quiet dynamic with great effect. "Someone New" shows off the sensitive side of the band, though I have to admit, it's sensitive through a rocking indie rock filer. It's a standout on the album, it's like Sebadoh on steroids. "YCF" sound like sensitive stud music, the kind of lo fi ballads that one croons to the ladies before rocking them like a hurricane. Because it's still the rocking side of things that the band does best, despite the increased maturity of the band, for every slower track, there is a more uptempo answer. However, it's the mixture and the sequencing of the two that ultimately make this a more satisfying record than their debut.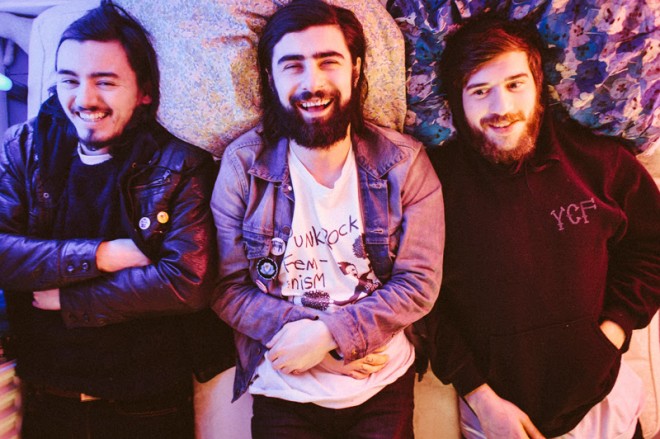 Youth Culture Forever is one of those records that kind of hangs around, and you find yourself playing it more and more. Out of nowhere, a track like "Narcissist" will pop into your head, with it's over the top guitar solos and "wo oh oh" backing vocals, damn I love this stuff. Bands like PAWS make it fun to listen to music, they hit you from all sides and leave you wanting more. This is a band that is positioning itself for a breakthrough. I'm not sure if this one is their Celebration Rock or The Stage Names moment, but they are getting closer with each album. When a band follows up a fun debut album with an even better sophomore record, you can't help but root for them! Youth Culture Forever indeed!
Key Tracks: "Someone New" / "Narcissist" / "Owls Talons Clenching"
Artists With Similar Fire: Japandroids / Okkervil River / Male Bonding

PAWS Website
PAWS Facebook
FatCat Records
– Reviewed by Kevin Poindexter

Latest posts by Kevin Poindexter
(see all)