Paul Simon


Stranger To Stranger
Concord Music Group [2016]


Fire Note Says: Paul Simon continues to bring a certain rhythmic sensibility to life's more perplexing realities.
Album Review: Paul Simon has already had several huge careers as both a songwriter and performer. With Art Garfunkel, Simon contributed numerous classics to the Great American Songbook: "Sound of Silence," "America," "Homeward Bound," "Mrs. Robinson," and "Bridge Over Troubled Water" to name only a few. After breaking up in 1971, Simon & Garfunkel played a reunion concert in Central Park on Sept. 19, 1981, playing to more than a half-million people, at the time the largest recorded audience ever.
Then in his early years as a solo artist, Simon had numerous '70s hits, like "Mother & Child Reunion" (which you'll remember U2 covered during last year's Innocence + Experience Tour, while introducing their philanthropy partners, that provide medication to HIV+ women in Africa, so they don't pass AIDS on to their children), "Me & Julio Down By the School Yard," "Kodachrome," "Loves Me Like a Rock," "Slip Slidin' Away," "Still Crazy After All These Years," and "50 Ways to Leave Your Lover." During this period, Simon made numerous appearances on Saturday Night Live, including a duet with George Harrison that was spectacular, singing "Homeward Bound" and "Here Comes the Sun."
And, then, for some reason still not satisfied, Paul Simon had the greatest breakthrough of his storied career with his 1986 CD, Graceland, featuring an eclectic mix of Simon's somewhat amazing melodic and lyrical skills and zydeco, pop/rock, and a "township jive" music called mbanqanga. While a risky undertaking, given that he was essentially breaking the anti-Apartheid boycott by working with/in South Africa, but his successful collaborations with native South African artists like vocal group Ladysmith Black Mambazo, accordion player Forere Motloheloa, and guitarist Ray Phiri, and a rather acrimonious adventure with Los Lobos, proved successful in the end, with Graceland winning the Grammy for 1987's Album of the Year. The disc produced strong airplay singles like "You Can Call Me Al," "Boy in the Bubble," the title track, and "Diamonds On the Soles of Her Shoes," and appeared to launch a third, more experimental career for Simon.
Simon followed up with The Rhythm of the Saints ('90), leaning for toward the Afro-Brazilian drumming of Latin America, which opened the door to the electronic, experimental approach of producer Brian Eno on '06's, Surprise, and '11's somewhat trippy So Beautiful or So What. With Stranger to Stranger, we find Simon on the now familiar territory of world music rhythms, wiry guitar and keyboard threads, and lush beds of percussion, horns and all manner of instrumentation following the lead of Simon's vocal melodic leads and his relationship driven narratives.
Given the flow and sound of his last few records, Stranger to Stranger fits nicely in his current comfort zone. Several of the early tracks benefit from a collaboration with Italian EDM artist Clap! Clap! – honest, that's his nom du jour – who brings a funky street swagger to "The Werewolf," "Street Angel," and the disc's first single "Wristband." The latter is clever, playing off the image of the famous artists locked out of his own club gig because he doesn't have on a backstage pass and the bouncer doesn't recognize him. While some reviewers have been referring to his playful rhyming here as comic, I have to say that previous albums had that same sense of humor but also dealt with some of the more existential realities with greater depth and insight.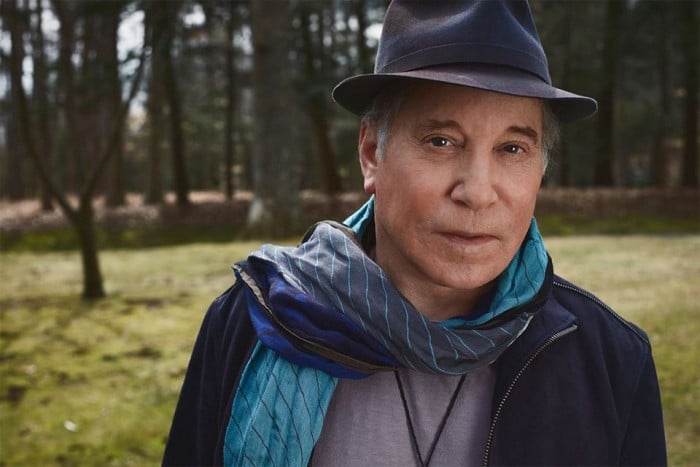 On You're the One he addressed the issue of age in "Old," within the context of a larger spiritual quest… almost as if you were in the presence of a wise elder Rabbi, offering a fresh interpretation of ancient texts.
On Surprise, he took this same conversation to the next level: admitting he was dying his hair "the color of mud" in the song "Outrageous," asking "who's gonna love you when your looks are gone?" before concluding that "God will." "How Can You Live in the Northeast?" considers the various religious options before concluding one is most at home within their own tradition, or "wearing my father's old coat." We also have to face the irony and paradox of our "Wartime Prayers," but meaning is found most often in relationship, that of a "Father and Daughter," and seeing one in birth who is pure, and "Beautiful."
With So Beautiful or So What, Simon took it up yet another notch. He looks at the darker realities of life and yet highlights the things the give humanity hope, that bring light to life. In "Getting Ready for Christmas Day" he balances an apocalyptic vision against the daily grind as years turn over and people struggle in war zones and those back home going through the motions. He asks God directly about "Love and Hard Times" and the question of the "Afterlife," before concluding that "Love Is Eternal Sacred Light."
In that company, Simon sound like he's stepped back from life's bigger mysteries to find comfort in his own playful rhymes and fun way with words, as in "Street Angel": "I make my verse for the universe/I write my rhymes for the universities/And I give it away for the hoot of it/I tell my tale for the toot of it/I wear my suit for the suit of it/The tree is bare, but the root of it/Goes deeper than logical reasoning." For the moment the wise Rabbi has embraced Zen.
Following the strange, and not particularly obvious "In A Parade," the record leans toward the quieter and more reflective. Seeking at first a "Proof of Love," but then in the face of life's tragedies, as a soldier killed in war is laid to rest down by "The Riverside," acknowledging that "life is cheap," and it's "gonna be a long walk home." The set closes with "Cool Papa Bell," who playfully considers some of the ugliest words that we use, before "Insomniac's Lullaby" which faces off with life's greatest mysteries: "O Lord, don't keep me up all night/With questions I can't understand/While I wrestle my fears/The sound in my ears/Is the music that's sweeping the land/The Insomniac's Lullaby." The ever inquisitive one sometimes has to settle for the fact that life cannot be solved, but "eventually we all fall asleep." I guess, whether we have a wristband or not.
The expanded deluxe addition has a brief acoustic guitar ballad, old school Simon, this one written as the theme for Louis C.K.'s series, "Horace and Pete." The next two are recorded live at broadcasts of "Prarie Home Companion," an old song, "Duncan" and his newest, a more acoustic rendition of "Wristband." After a brief guitar instrumental, Simon joins early rock icon Dion on his song, "New York Is My Home."
Perhaps not the groundbreaking work of Paul Simon's long, multi-chapter life and career, but on Stranger to Stranger he continues to bring a certain rhythmic sensibility to life's more perplexing realities in the familiar rhymes and linguistic acrobatics that give us a playful way of dealing with the unexplainable. That he manages to keep it fresh, musically and verbally, suggests just how he's kept it real, entertaining and relevant for all these many decades.
Key Tracks: "Wristband" / "Proof of Love" / "The Riverbank"
Artists With Similar Fire: Bob Dylan / Neil Young / Patti Smith
Paul Simon Website
Paul Simon Facebook
Concord Music Group
– Reviewed by Brian Q. Newcomb
Latest posts by Brian Q. Newcomb
(see all)