Native


Orthodox
Sargent House Records [2013]



Fire Note Says: Native's 3rd LP balances its strengths between timing and consistency.
Album Review: If you take a look at Native's Facebook and bandcamp pages then you begin to see what I—along with many others—am figuring out: Indiana's four piece Native is a math rock/post hardcore/indie band that deserves to be taken notice of. It should help that they've been picked up by Sargent House Records, which is only becoming bigger by the day, gaining artists such as the acclaimed metal siren Chelsea Wolfe, the eclectic guitar mastermind Omar Rodriguez Lopez, and one of the most potent bands out today Deafheaven. In a manner of speaking, Native isn't really trying to fool anyone; their sound could be described as accessible, balanced, and complex. But those are just three descriptors, and Native seems to leverage all that and much more in their favor. Orthodox finds its taste and cohesion in poignant song lengths, interesting arrangements, and splashes of aggression.
Let me give you examples of what Orthodox is shooting for. Native's mantra embraces current musical conventions but also rips, guts, and grinds them to a pulp when necessary. First track, "Word City" is lofted closely to Pile's dirty alt rock tones, but it's all swept away by math, noise, and Bobby Markos' aggression. Now, everyone's a hero on this record, from Markos' deep, cutting bass lines, Dan Evans and Ed O'Neill's hardcore riffs; but what really makes the record shine is Nick Glassen's polyrhythmic drum patterns. "Word City" blends into "Monday Night" and Glassen's rhythms stay steady and consistent all the way through.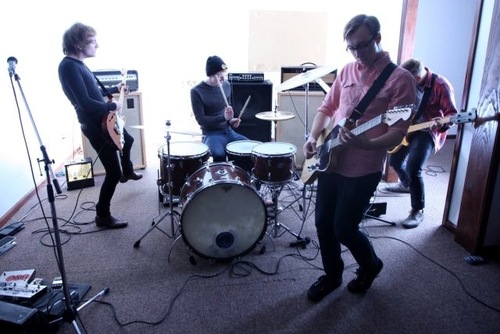 Another accomplishment of Orthodox is its interesting plays with song length. "Fundraiser" is post-hardcore, dreamy math rock, and gleaming ominous shoe-gaze all in under two minutes. "Kissing Bridge" is another good example of what can be accomplished in a short amount of time: the track intensifies with rapid guitars from Evans and O'Neill, but still finds time to include a lucid, transformative bass breakdown in its 2:30 span. "Books On Tape"—my favorite and the album's longest track—is relentless, foreboding, and well paced. Blossoming with fine-tuned guitar tones, "Books On Tape" is everything a Native fan could want, from breakdown to buildup in fantastic fashion.
Native's Orthodox is an example of how genres can meld to create something refreshing. Native draws inspiration from many different artists ranging from …And You Will Know Us By The Trail of Dead, Jawbox, Some early Mastodon, Mt. St. Helen Vietnam Band, Pile, Sunny Day Real Estate, These Arms Are Snakes, and many more. But it's what, how, and why behind their craft and the resulting white-knuckle sound that helps set them apart and gives them an identity of their own.

Key Tracks: "Brass," "Books On Tape," "Kissing Bridge"
Artists With Similar Fire: The Reptilian / We Were Skeletons / Caravels
Native Website
Native Facebook
Sargent House Records
-Reviewed by Christopher Tahy

Latest posts by Christopher Tahy
(see all)