Max Gowan


Big People
Self-Released [2015]



Fire Note Says: Big People is a friendly, catchy blend of bedroom rock and pop hooks.
Album Review: Despite the number of bands and artists who make it look easy, putting together a homemade record on your own is a harder task than it looks on the surface. Being able to juggle songwriting, producing, recording, and mixing is tough enough, but there's the added pressure of being your own harshest critic to deal with as well. That's why Max Gowan's debut LP Big People is such an impressive album: not only does the dense, intimate production compliment the songs, many of the songs themselves are well-structured, poppy indie rock earworms with memorable licks and melodies. All this is made even more impressive when you consider that Gowan only just graduated high school.
From a songwriting and vocal standpoint Gowan's most immediate sound-alike is Elliott Smith—his voice is slightly smoother and his writing style a bit more straightforward, but Smith's 60s-pop-inflected melodic sense and understated delivery have clearly rubbed off on Gowan. Musically, though, Gowan branches out a bit—there are the obligatory acoustic tracks, but most of the time things get a bit more interesting, with Gowan injecting lyrical guitar lines here, an interesting keyboard effect there, making for an overall sound that offers nods to the weaving momentum of Real Estate, Chris Stapes, and Transatlanticism-era Death Cab.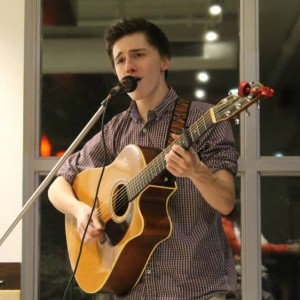 There are highlights to be found throughout the record, but a few tracks do stand above the rest. Opening track "Rare Thing" sets things in motion brilliantly, the warm, full tone of Gowan's guitar playing nicely complimenting his confident vocals; the creative solo near the end of the track shows that Gowan is willing to take risks, and here it pays off. "Face" is the next highlight, a track built around several harmonic guitar lines and a steady drum beat that give the track an expansive and driving quality. "The Stumble" is a relaxing acoustic interlude, with burbling electronic textures slowly evolving beneath finger-picked guitar before shifting into "Snow," an uptempo rocker with catchy riffs and a breezy vocal melody. Other strong tracks include "Here (Part 2)," which features some Yankee Hotel Foxtrot-style electronic experimentation, and closer "Everything is Cool."
Gowan notes that he wanted this album to "reflect what I actually want to be as an artist," and that he tried to make the album one that could be listened to start to finish. While it may not be an album destined to go down in history as a stone-cold classic, it's clear after a few listens that Gowan achieved his goals. Big People feels like a coherent statement from an artist coming into his own, and it's a highly listenable one at that—more than enough reason to check it out and hear for yourself.
Key Tracks: "Rare Thing" / "Face" / "Snow"
Artists With Similar Fire: Elliott Smith / Chris Staples / Death Cab For Cutie

Max Gowan Website
Max Gowan Facebook
-Reviewed by Simon Workman

Latest posts by Simon Workman
(see all)