Magik Markers


Surrender To The Fantasy
Drag City Records [2013]



Fire Note Says: Noise rockers present Surrender To The Fantasy, but is their creativity drying up?
Album Review: Magik Markers' Elisa Ambrogio has said "Nobody would make art if it was sensible, logical, or responsible." "That's why we called the album Surrender To The Fantasy," she continues. "I think when we were making that album, I even wrote down that we have to surrender to the fantasy." The Hartford, Connecticut band have been an interesting entity ever since their inception in 2001. After a big year in 2004 opening for Sonic Youth, the Markers found a home on Thurston Moore's Ecstatic Peace Records with the 2005, vinyl-only debut of I Trust My Guitars, Ect. Fast forward eight years and the follow up to 2009's Balf Quarry finally reveals itself. Surrender To The Fantasy finds the band focusing hard on the concept of an anti-song.
And it's the concept of the anti-song that heavily divided the album for me. Magik Markers strike out into some interesting sonic territories while gradually introducing their ideas. Songs from early on in the album, like "Crebs" and "Acts Of Desperation," ended up being some of my favorite songs as their surrender to fantasy doesn't consume them immediately. "Crebs" has a fiery charm that burns through the noise, guitars fuzzing and drums banging with constant tempo, all while Ambrogio's freefall vocals peel into an endless void. "Acts Of Desperation" noodles its way into your heart with winding lo-fi guitar jangles (a few tracks were recorded at J Mascis' pad, and I'm sure that helped shape their sound).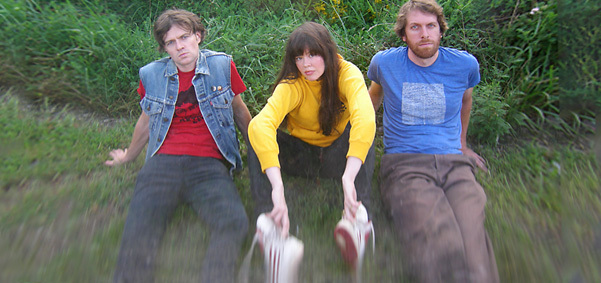 Somewhere around the middle of the album is where most of the problems occur. The themes and instrumentation are kept constant—which isn't a bad thing—but the idea of the anti-song starts to rear its head more and more. I know what the Magik Markers are going for: songs like "Mirrorless," "American Sphinx Face," "Young," "Empire Building," and "Screams of Birds and Girls" all shoot for fantasy. These songs are all looking to absorb the listener giving everyone a special, transformative listening experience. But they also fall victim to it too. While it might work for some, I just couldn't absorb most of these tracks. But my biggest problem with Surrender To The Fantasy is the length. I would have found the experience much more enjoyable if the album moved along at a brisker pace. The final track, "WT," doesn't help, striking a highly improvised tone and coming across as a jumbled mess.
Magik Markers have been in the game for some time, and I have to say that I've never really heard anything quite like this. Take the free form shoegaze of My Bloody Valentine, the lo-fi of early Karen O, then cross that with a helping of the Sonic Youth's noise jangle, and you might come close to Magik Markers. The band is good at what they do; the problem is they really want you to know that. Ambrogio also said, "There was way to much surrendering to the reality." Maybe I'm too realistic to surrender. Whatever the case may be, Surrender To The Fantasy is definitely a piece of art—what's your interpretation?
Key Tracks: "Crebs," "Act of Desperation," "Screams of Birds and Girls"
Artists With Similar Fire: Free Kitten / Royal Trux / Pussy Galore

Magik Markers Website
Drag City Records
-Reviewed by Christopher Tahy
Let your iPhone Rock Your House with iHomeAudio!

Latest posts by Christopher Tahy
(see all)