Lucinda Williams


Down Where The Spirit Meets The Bone
Highway 20 Records [2014]



Fire Note Says: Lucinda Williams has settled into a comfortable groove.
Album Review: Two things come to mind with the mention of Lucinda Williams: that voice and those songs. That voice has found her singing on records by some of the best songwriters in country, folk and blues music: John Prine, Ralph Stanley, Bruce Cockburn, Over the Rhine, Graham Parker, Steve Earle, and Willie Nelson. In 2004, she was invited to sing on two records that define both her passion and utility. She embodied the frustration and longing of "Factory Girls" on Flogging Molly's Within a Mile of Home; and then Elvis Costello gave her a perfect vehicle to steal the show on his Delivery Man collection, with "There's a Story in Your Voice."
And Williams has often turned those stories into great songs, as heard on her 1998 breakthrough album, Car Wheels on a Gravel Road, that became defining album in the Americana oeuvre while winning the Grammy for Best American Folk Album. Great songs like "Drunken Angel," "Lake Charles" "Still I Long for Your Kiss," "Joy" and the title track mixed traditional country with soulful blues and edgy rock in a way that has come to define this artist's craft on each successive release.
On her eleventh album, Lucinda Williams has settled into a comfortable groove, maturing both as a songwriter and singer. At this point she doesn't have to prove anything to anyone, and on Down Where the Spirit Meets the Bone she stretches out both figuratively and literally. Celebrating a season of productivity, she has recorded 20 tracks for this two disc release, and when it suits the song she lets her band of seasoned players explore the sonic terrain for hidden treasure.
The disc's credits include so many fine guitarists – Tony Joe White, Greg Leisz, Stuart Mathis (Wallflowers), Doug Pettibone and a couple more – it's impossible to know who's played what, but Williams and company have found a nice blend of swampy blues grooves and crisp Southern rock and country sounds, the right organ sound here, a great soulful guitar break to match her vocal in emotion and depth.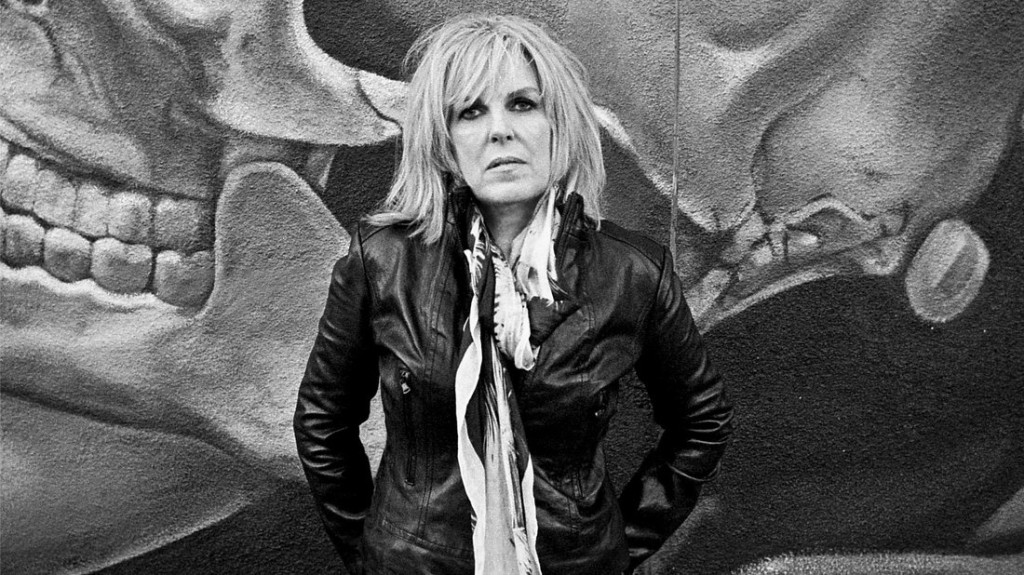 Across the sweep of this long disc, Williams doesn't falter, her instincts don't seem to fail her. She opens the record with an acoustic reading of a poem by her father, "Compassion," which also gives this collection its title. Early on songs like "Burning Bridges" "East Side of Town," "West Memphis," "Cold Day in Hell" and "Foolishness" are back to back examples of Williams' operating at the full capacity of her talents. Soulful vocals capture the depth and breadth of one's emotional life, but exhibiting a gritty spirit of self-determination and perseverance.
There's room for versatility, too. With "Walk On" she recalls a bit of early rock & roll's Bobbie-socks era, while "This Old Heartache is straight up old-school country. Jakob Dylan adds a guest vocal to "It's Gonna Rain," and the long collection ends with a nearly 10 minute salute to the late, great JJ Cale on his wonderful song "Magnolia."
But mostly, Spirit Meets the Bone is Lucinda Williams at her best, writing songs that touch life's yearnings and passions, and then singing them as if her life depended on it. She can condemn the attempts to control her thoughts with "Foolishness" and thank her loved one for "Protection" and a safe place to "Stowaway in Your Heart," with literate lyrics that cover every emotion on life's terrain between those two expressions. Now, on her own label, producing her own music at her own pace, she's matured both as an artist and as somebody who can run the show in a way that honor's her artistic vision and her own voice.
Key Tracks: "Foolishness" / "West Memphis" / "Temporary Nature (Of Any Precious Thing)"
Artists With Similar Fire: Steve Earle / Emmylou Harris / John Prine

Lucinda Williams Website
Lucinda Williams Facebook
– Reviewed by Brian Q. Newcomb
Latest posts by Brian Q. Newcomb
(see all)