Lee Ranaldo And The Dust


Last Night On Earth
Matador Records [2013]



Fire Note Says: Last Night on Earth might be the best guitar record you hear this Fall.
Album Review: I didn't see this one coming. I thought that Lee Ranaldo's first album for Matador, 2012's Between the Times and the Tide was pretty good, but it's not this. This is damn good. "This" is Ranaldo's new album, Last Night on Earth, his first with backing band The Dust. It's interesting to note that The Dust also features another ex Sonic Youth member, Steve Shelley on drums, as well as Alan Licht and Tim Luntzel. I expected this to be an experimental noise fest (I mean that in a good way), but instead it's a great collection of guitar driven rock songs. The songs are long and feature some top notch soloing all around. The scope is broad and the band has room to stretch out and take the song in multiple directions, but the common thread that runs through it all is Ranaldo's amazing guitar.
I was trying to think of some reference points to give you so that you might get some idea as to what the record sounds like, and the nearest I can come up with is Jim O'Rourke and his excellent work in both Loose Fur and on his solo albums Insignificance and Eureka, or some of the excellent Steve Malkmus albums where he really lets loose on the guitar and stretches out. "Lecce, Leaving" starts the record off on a winning note. As soon as that lead guitar line kicked in, I was sold on this album. I don't know if I was expecting him to play his guitar with a Mitre Saw or something, but I this is completely different. This is avant garde soloing in the way that Jerry Garcia was an avant garde guitar player. He's both tasteful and on another planet. At just a hair under 7:00, the song length feels exactly perfect, it moves through different moods and sections, but never entirely loses its footing. It walks the edge, and pushes towards the limit, but never crosses over; Ranaldo always knows when to pull it back. "Ambulancer" is another highlight of the record for me, the driving beat, the guitars, the vocals, all of it melds together so perfectly that I just want to turn it up and put it on repeat for a month. "Last Night on Earth" begins as a quiet acoustic track, but gradually builds in intensity before shifting into a complete guitar meltdown for the last 90 seconds.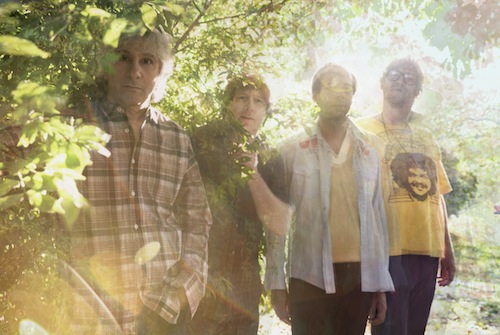 Last Night on Earth is a winner, and along with the equally impressive Body/Head album shows that though Sonic Youth may very well be finished, there is still boatloads of creative energy left in the players.
Key Tracks: "Lecce, Leaving", "Ambulancer", "The Rising Tide"
Artists With Similar Fire: Jim O'Rourke / Stephen Malkmus / Sonic Youth
Lee Ranaldo Website
Lee Ranaldo Facebook
Matador Records
– Reviewed by Kevin Poindexter

Latest posts by Kevin Poindexter
(see all)