King Gizzard & The Lizard Wizard


I'm In Your Mind Fuzz
Castle Face Records [2014]


Fire Note Says: King Gizzard will give you an entire new perspective.
Album Review: Melbourne, Australia band King Gizzard & The Lizard Wizard grabbed me earlier this year with just their name but when I heard the double release of Float Along – Fill Your Lungs/Oddments in August I was hooked. Their new long player, I'm In Your Mind Fuzz, is exactly what I expected from the psych lords in every way that is good. The record treats you to wild transitions, fuzzed up vocals, spiraling out of control instruments and plenty of energy that feels new and fresh.
Right from the opening track, "I'm In Your Mind," you get quick pulsing rhythms, spacey vocals and guitar spasms that initially feel totally chaotic but then make sense as the track seamlessly transitions into the groovy upbeat instrumental "I'm Not In Your Mind." The energy does not slow there, as King Gizzard moves quickly into "Cellophane" which possesses these electric tempo changes that keep you on the edge of your seat and several memorable cry out vocals. These high spastic musical movements win you over and after another masked song transition, the title track caps off this 4 song 12 minute revolution of music before King Gizzard finally takes a small break. I only say that because this is the first natural break in music you hear on the record but don't think that I'm In Your Mind Fuzz slows from there because the psychedelic fun has only just begun. The crazy and intense "Am I In Heaven?" crosses the seven minute mark and packs all of King Gizzard's tricks in one tight offering that includes a cool Beatlesque harmonic moment right in the middle of the song before the music distorts and sends you back down the track like you are on the Willy Wonka ferry ride.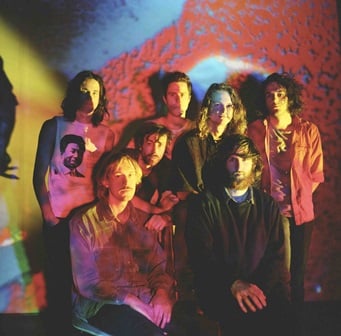 I cannot stress enough that King Gizzard & The Lizard Wizard have produced a unique listen that finds new avenues of music. From hard playing harmonica to some shrilling jazz flute, the band goes to all extremes on I'm In Your Mind Fuzz. If you were a fan of Float Along – Fill Your Lungs/Oddments you will be surprised how much King Gizzard have upped the ante here. I'm In Your Mind Fuzz takes all of the elements that were behind their previous records groove and made the music even catchier. It is a record to play and play again as there is no way to hear all of its nuances in one sitting. Trippy guitar, swirling vocals, haze of sounds, funky turns, and psychedelic jams are just a few descriptions for I'm In Your Mind Fuzz – "Exciting new band to check out," is the only way to describe King Gizzard & The Lizard Wizard.
Key Tracks: "Cellophane" / "Am I In Heaven?" / "I'm In Your Mind"
Artists With Similar Fire: Tame Impala / Wand / The Ghost Of A Saber Tooth Tiger
King Gizzard & The Lizard Wizard Website
King Gizzard & The Lizard Wizard Facebook
Castle Face Records
– Reviewed by Christopher Anthony

Latest posts by Christopher Anthony
(see all)