JPL
Sapiens – Chapitre 1/3: Exordium
Quadrifonic [2020]



The first thing you hear is the devil's interval – the tritone being playing by a French Horn that just seems too appropriate. It's little more than a nod to Tales From Topographic Oceans but it sets the stage for everything to come. Jean-Pierre Louveton (known simply as JPL) has long been a fan of Yes and his old band, Nemo, mined that particular vein of progressive rock from 2002 until they went on hiatus after their brilliant 2015 album, Coma. It was dark day as Nemo were one of the most consistently great Prog bands anywhere. The plus side is that JPL is a prolific guy and on this, his 9th solo album, he has not only served up a record on par with his past work he has, in fact, surpassed it.
As the title implies this is intended to be part one of a three album series about humans wreaking havoc on Earth and needing to move on to another planet. So very Prog! But what JPL brings to the game as a songwriter is an enormous love for all of the seventies: from Led Zeppelin to Thin Lizzy, Black Sabbath to Genesis. This is guitar-heavy Prog without being metal. The music reminds you of another era but it is directly within the Modern Prog canon. The real surprise here is that JPL solo albums often are just that – solo albums. Songs not good enough for a Nemo release, acoustic guitar pieces, songs sung in English (um, no thank you!) In all, a mixed bag. But here we find Louveton in fine form. His voice sounds better (he's not really known as a great vocalist anyway) and his guitar playing is as tasty as ever. Present are the drummer (the awesome Jean Baptiste Itier) and keyboard player (Guillaume Fontaine) from his old band which may actually beg the question: "Why not just slap the Nemo logo on this thing?"
The album, as stated earlier, opens with some brass and strings on "Mastodontes" before the main riff reveals itself and the journey begins. The first three songs make up one suite and it's the best 17 minutes I've heard all year. Themes weave in and out but there's always propulsion. Things never get bogged down in spacey Prog excess – JPL likes to keep things rocking. Vocals appear (finally) on "Homo Sapiens" and no one will confuse this with the Pete Shelley song of (almost) the same name but it's definitely every bit as clever. The second suite consists of two songs: a potential single and the album's absolute beating heart: The ten minute workout "Le Chaud Et Le Froid." Mellotron strains give way to plaintive piano and some weird narration (mercifully, the only English to be found here) about climate change. JPL's instinctive melodic sense shines through as he balances the heavier elements with the delicate so skillfully it's hard to believe that this guy is relatively unknown. Everything that makes Louveton such a compelling artist is on full display in one track. The final suite takes us to Alpha Centauri and the frenetic last chord progression. Like most things JPL related it feels so familiar and yet so alien. And that, dear friends, is the secret sauce.
I could go on for days about how much I love this record (hell, I came out of retirement to write this review.) The one and only drawback one may have would be the French language but it's a beautiful tongue and, much like Italian, wonderfully suited for Progressive Rock. There are zero weak moments. Every theme serves a higher purpose. And to that end JPL has always strived to make music that just feels bigger and somehow more important than your band ever could. With Nemo he came agonizingly close to perfection on several occasions. On Sapiens he hit the Prog nail quite squarely on the Crimson head.
Key Tracks: "Le Chaud Et Le Froid" / "Mastadontes" / "Alpha Centauri"
Artists With Similar Fire: Rush / Yes / Transatlantic
JPL Website
JPL Facebook
Quadrifonic
-Reviewed by Scot Lade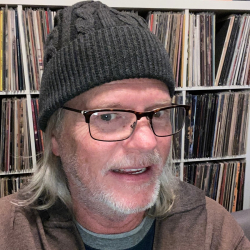 Latest posts by Scot Lade
(see all)