Jack White


Live At Third Man Records
Third Man Records [2012]



Fire Note Says: If the turntable is a rocking then the Third Man Record Vault must have opened!
Album Review: Ears be praised as Third Man Records and Jack White open up the record vault once again to present us with Vault Package # 14 in all of its exclusive glory. I have to say that White really proves Third Man's slogan (Your Turntable's Not Dead) with this one. Exclusive to the turntable Vault Package # 14, live, and straight from Third Man Records' three-month anniversary party it's a Jack White blue/black color split double album appropriately titled Live at Third Man Records.
Packaging is everything with this release as it has a really cool lithograph cover that depicts a rocking Jack fronting both of his backing bands. The gatefold also keeps it simple inside with classy photos of all the performers but what makes the package so special is that each LP is specific to a certain backing band. The first LP is dedicated to his all-female backing band, The Peacocks. Then the second LP follows suit and is dedicated to his all-male band, The Buzzards. The best part about Jack is that the set list is in his brain, "being kept on his toes as a musician" he says, "is one of the most exciting/challenging things that can take place live." Therefore, why not create two different backing bands, songs come out with a new fever, the energy is renewed, and the crowd gets really into it.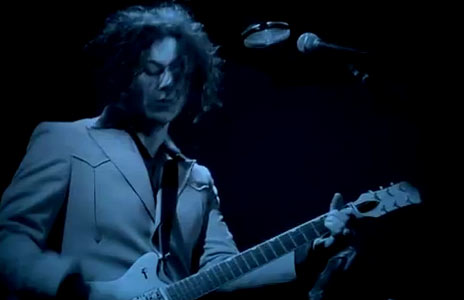 That is the case here as a lot of the Jack White catalog is explored. White Stripes' classics like "Dead Leaves and the Dirty Ground" thunder with a wonderful big band, country twang. "Hotel Yorba" is just as much of a crowd pleasing sing-a-long as it has ever been. "You're Pretty Good Looking (For A Girl)" maintains its childish Stripes charm even with the bigger honky tonk shuffle sound. Plus I have to give an honorable mention to Stripes' blues blazer "Ball and Biscuit" and the always ever crowd pleasing "Seven Nation Army".
Other highlights include the Dead Weather's "I Cut Like A Buffalo/Don't Sweat the Technique" with a fantastic splash of jazzy string bass bounce. The Raconteurs' classic "Steady, As She Goes" is injected with new life as The Buzzards and Jack make it their own special something. Jack White's own solo material rocks with quirks, and rolls with smooth grooves. "Love Interruption" sounds as gorgeously here live as it does on the album while "Sixteen Saltines" woops just as much ass as the first time you heard it. Finally, in true Jack White fashion the evening is ended with a blues cover sing-a-long. Leadbelly's "Goodnight Irene" wishes everyone well just that, a good night. Of course there is a bit more but I wouldn't want to ruin the surprise if you can still get your hands on it.
So all and all bravo Third Man Records – you've given us art in two forms. This great collection of exclusive live music that will please my ears for many spins to come. Also, giving reverence to the science and art of vinyl itself in packaging, art work, and coloring – Jack White does it right. All I can say is that I'm sure glad that I have a Third Man Record Vault subscription and I cannot wait to see what comes next! I might be showing a bit of bias here but it's all really a fantastic piece of music and only allowing this to be pressed exclusively to wax just adds to the experience.
Key Tracks: " Dead Leaves and the Dirty Ground", "Hypocritical Kiss", "I Cut Like A Buffalo/Don't Sweat the Technique"
Artists With Similar Fire: The White Stripes / The Hentchmen / Alabama Shakes
Jack White: Blunderbuss [Fire Note Review 4/24/12]
Jack White Website
Jack White Facebook
Third Man Records
-Reviewed by Christopher Tahy

Latest posts by Christopher Tahy
(see all)