Jack White


Blunderbuss
Third Man/Columbia Records [2012]



Fire Note Says: Jack White releases his debut solo record Blunderbuss that aims to entertain from beginning to end!
Album Review: Right from the opening Rhodes piano playing you just have a sense that one of the true sides of Jack White has just been unleashed to the masses. This is the vibe you get on the rolling first number "Missing Pieces" on his first solo record Blunderbuss before we get into the superbly hard rocking "Sixteen Saltines". With its big guitar and hard edge it truly should satisfy anyone out there longing for some smidgen of a White Stripes sound on Blunderbuss. After that rock explosion though, Stripes fans may be disappointed but I feel it is at that very point Blunderbuss truly gets interesting.
It is here that Jack White lets different flavors of his likings and instruments take over such as the upright bass in "Freedom At 21", the Wurlitzer electric piano on "Love Interruption", pedal steel during the title track and perfectly placed normal white ivory on the stellar burning ballad "Hypocritical Kiss". This of course only gets you through the first 6 tracks of the 13 compositions here and leaves room for some fiddle and mandolin in the last half. White's combination and use of all these instruments gives Blunderbuss its free spirit and likability.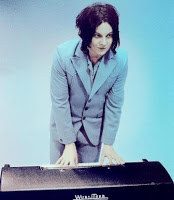 What also makes Blunderbuss a success is its expertise refinement. I think it would have actually been easy for White to give everyone a full rocked out record like the Stripes but here Jack makes each track smolder with his confidence, instrument swagger and solid song structures. His cover of Little Willie John's track "I'm Shakin'" is executed with the utmost respect and superb female backing vocals that includes his ex-wife Karen Elson while the closing track "Take Me With You When You Go" features the same trio of background vocals as the song cruises along until about the 2 minute mark when an upbeat piano quickly switches into a full guitar solo and White kicking the song up a notch vocally. This type of transition is what you want to hear and White delivers on track after track.
Blunderbuss is a record that may not immediately awe fans but I guarantee it has staying power. This is an album that will play well at the end of the year, the next year and the years after that. Jack White offers up his take on folk, blues and most certainly rock on Blunderbuss that not only will have you coming back but turning up the volume at the most peculiar times – and that is exactly why this release is essential!
Key Tracks: "Sixteen Saltines", "Hypocritical Kiss", "I'm Shakin'"
Artists With Similar Fire: Bill Monroe / Dan Auerbach / Bob Dylan
Jack White Website
Jack White Facebook
Columbia Records
Third Man Records
-Reviewed by Christopher Anthony

Latest posts by Christopher Anthony
(see all)