Hüsker Dü


Savage Young Dü
Numero Group [2017]


Fire Note Says: This 69 track box set delivers a rare and complete look at seminal Minneapolis hardcore punk trio, Hüsker Dü's early beginnings, a collector's dream.
Album Review: By the time Hüsker Dü – Grant Hart, Greg Norton and Bob Mould – were playing their first gig in 1980, the first wave of punk bands like the Ramones, Television and Patti Smith had signed to major labels and the hardcore scene was driven by bands like Black Flag, Bad Brains, and the Minutemen. The Du came up in the same Minneapolis scene that produced the Replacements and Soul Asylum, which had previously been known as Loud Fast Rules, which is an apt description of that sound's guiding principles. I have a mild form of tinnitus (ringing in the ears), that I attribute to attending a Hüsker Dü show during the four years I lived in St. Paul for grad school in the early 80's, although I have to admit that those years I reviewed Ozzfest for the St. Louis daily likely contributed some. Please, young ones, wear ear protection to live rock shows.
The long journey for these long lost recordings of the band's early demos, rehearsals and live shows to the finished box-set is almost as storied as the explosive trio itself. Hüsker Dü's brief often brilliant career was riddled with tension and conflict, especially between the band's two most productive songwriters, Mould and Hart. The band's unique blend of power-pop, punk, noise, and hardcore thrash, proved influential to band's as varied as Nirvana, The Pixies, Metallica and Smashing Pumpkin, but universally critics and fans agree that the band's earliest releases with SST Records, the label of Black Flag guitarist Greg Ginn, suffer from a cloudy, even muddy mix.
This collection draws heavily on early alternative recordings made by the band's soundman and friend, Terry Katzman, reportedly 130 or so, which were often recorded right off the band's soundboard, including an alternative version of Hüsker Dü's early live album, Land Speed Record, drawing on a recording of a different show in that same time period. So, while these tracks sound better than ever before, they still have that lo-fi recorded in a garage quality, because a lot of them were recorded on cheap equipment in a garage.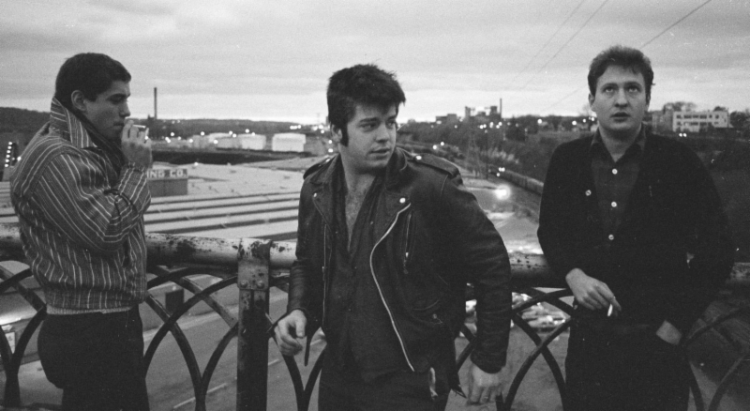 At the end of "Insects Rule the World," a fun example of the band's bubble gum pop potential, we hear one of the band admit "We're not the most professional band in the Twin Cities… we have fun though, we have fun." And the fun here is shared, especially for Hüsker Dü fans, as we get to see the band finding its sound and working out the trios creative kinks in real time, in early songs that capture that adolescent angst, confusion, anxiety and anger that fuels so much of punk. Routing romance problems made all the more conflicted by heavy doses of hormonal longing show up in "Can't See You Anymore," "All I've Got to Lose Is You," and "Sexual Economics;" go ahead and count the number of lyrical references to "erotic dreams." These guys were growing up in public, fighting to make sense of the world and even fighting each other, and at the same time they were producing great music original new music along the way. Give a listen to "Writer's Cramp" and tell me it's not just perfect.
Of course, we know what happened to Bob Mould, who has had a significant solo career, and also lead another power pop/post-punk trio, Sugar, for a few years. Gary Hart, after overcoming heroin addiction, moved from drums to guitar and led the band Nova Mob, and continued to release solo albums, before dying of liver cancer earlier this Fall. Bassist Greg Norton, who's melodic playing has proven very influential, spent some years running his own restaurant, and more recently has played in a number of bands, most recently in Wisconsin band, Porcupine. But together they were a force of nature. Hart and Mould's great songs, and the latter's ebullient, if at times savage attack on the guitar has left an ineffable mark on the music world.
Given the vast number of taped recordings found in Katzman's collection, we may get more releases down the road, but in the meantime this large collection offers the best listens for fans to the music on their first two albums, Everything Falls Apart and the live Land Speed Record, as well as at least ten songs never heard before. But if you don't love Hüsker Dü already, and have a deep appreciation for that early punk history, this loud, fast band will just feel like so much noise… powerful, creative fun noise to be sure, but noise nonetheless.
Key Tracks: "Writer's Cramp" / "Can't See You Anymore" / "Sunshine Superman (Donovan cover)"
Artists With Similar Fire: The Replacements / Bad Brains / Minutemen
Numero Group
– Reviewed by Brian Q. Newcomb
Latest posts by Brian Q. Newcomb
(see all)