Guards


In Guards We Trust
Black Bell Records [2013]



Fire Note Says: With In Guards We Trust, the Guards show great promise as a fun, diverse band.
Album Review: With their debut LP album, In Guards We Trust, the Guards show great promise as a fun, upbeat band. The album tells less of a story, acting more like a mixed tape playing with a moment in time. At first listen, the Guards are catchy, using youthful sounds and beachy, West Coast vibes. As the album continues, a constant contrast plays out, making for an entertaining playlist.
The Guards are lead by Richie Follin, who played with the Willowz for eight years. Taking a break from the Willowz, Follin played for the Cults, his sister Madeline's band. Follin and Loren Humphrey, who drummed in both Willowz and Cults, put together a few demo songs, for possible inclusion in the next Cults' record. The songs built momentum after Follin and Humphrey posted them on the internet. Follin started getting offers to play at shows, so he put a band together. Follin and Humphrey's friend, Kaylie Church, joined in and the trio began making their first album as Guards.
In Guards We Trust's first song, "Nightmare," is less like a bad dream and more like a current event. It uses echo, clapping, and rhythm to carry on a fun yet strange tune. The song also expresses frustration, repeating over and over "it's maddening, it's maddening." With similar lyrics, "Giving Out," talks about time running out and a warning; however, in contrast to "Nightmare," the music is upbeat and fun. So fun, in fact, that "Giving Out" could be used as the opening credits of a sitcom.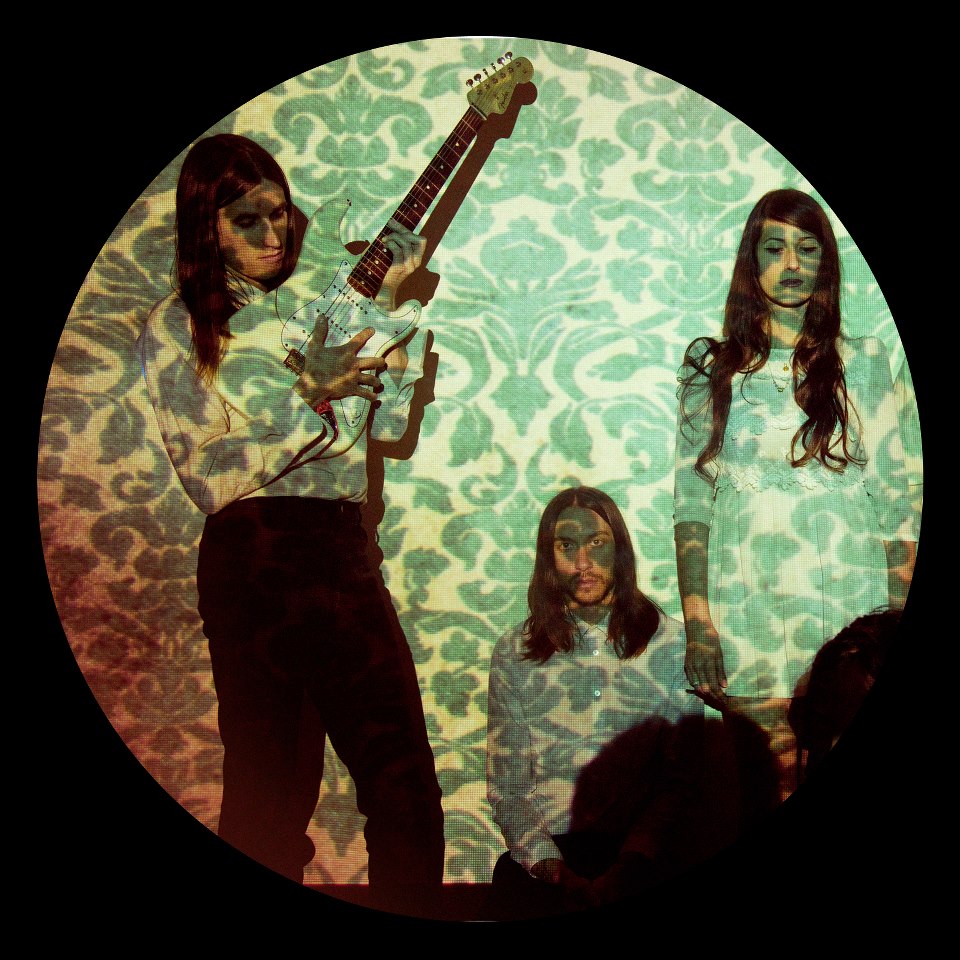 The album continues to be light and upbeat, infusing more and more West Coast sound with "Ready to Go" and "Silver Lining." There is an excitement for life in the music and a feeling of youth and new beginnings. On "Silver Lining" the Guards sing "I wanna live forever" and "I wanna build a happy home for you and me."
The next track, "Heard the News," is mellow and a little sad. There's echo and repetition from previous sounds, as the lyrics chant "give it up, give it up" and "I love you too much." Moving on, "Not Supposed To" is catchy and uneven. There is a definite contrast between the chorus and verses. The chorus is loud and simple, using several voices to convey one message. The verses are faster, busy, and add a little twang in the singer's voice.
As "Moving On" ends in remorse, the next song, "I Know It's You," begins with optimism. "I Know It's You" also has a contrast in the verses and lyrics. The verses are smooth and slow, but the chorus is fast and loud, using screaming towards the middle and end. The song has a beautiful bridge, pausing for a moment to slowly sing "take the very best moment that you every had, that's the one, that is what we had."
One of the album's best songs, "Coming True," is similarly fast, catchy, and fun. It comes off as a song about a crush, almost giddy, using classic lyrics like "now it's all coming true, what's a boy suppose to do, with a girl, a girl like you." In contrast, the downtempo song "Your Man" plays next. It's bluesy and earthy, but conveys a similar message in the lyrics as both male and female vocals sing "I wanna be your man, I'll do all I can."
The album's final songs weave in and out of slow and fast, sadness and optimism, to finish out the theme of contrast. "Can't Repair" is a fast, exciting song; However, while the beat is sunny, the lyrics are less optimistic saying "this love you can't repair." With another twist, the next song "Home Free" is more optimistic as it bolts out "the future's all I see, we're home free." The song also uses chanting voices to create drama, similar to the Lumineers or Matt and Kim. Ending with "1&1," the album is again slow and simple, using repetitive lyrics and sounds to create a mellow finish.
At first, In Guards We Trust might seem to lack cohesion. After further listen, perhaps it's more about contrast, and less about cohesion. The Guards have created an album that coordinates fast and slow, fun and sadness, making for an in-the-moment experience.
Key Tracks: Ready To Go", "I Know It's You", "Coming True"
Artists With Similar Fire: Beach House / Local Natives / Cage the Elephant
Guards Website
Guards Facebook
Black Bell Records
-Reviewed by Michelle Morgan