Gregory Alan Isakov


Gregory Alan Isakov With The Colorado Symphony
Suitcase Town Music [2016]


Fire Note Says: Gregory Alan Isakov revitalizes some of his best work.
Album Review: The cover of Gregory Alan Isakov's new album depicts an outstretched hand with a flame in it. I won't pretend to understand what Isakov was going for with the cover, but it evokes both nature and a sense of humanity. We are better when we work together for a cause greater than us, and this is very true for Isakov's new album, Gregory Alan Isakov with the Colorado Symphony. As is evident with the title, Isakov is accompanied by the Colorado Symphony as he plays some of his old songs. The pairing is a great fit.
The album gets off to a slow start with "Liars." A guitar strums softly as the symphony lurks in the background. Isakov's vocals are delivered in a matter-of-fact tone. The musicians gradually reward your patience three minutes into the song; that patience makes the crescendo of the orchestra all the more striking and impactful. At that moment is when the potential of this collaboration crystallizes. The following six songs are a treat and constitute a must-listen album on their own.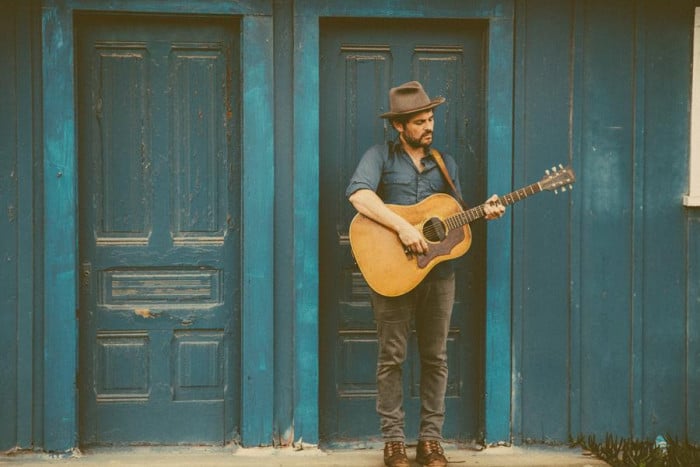 "Dandelion Wine" has another soft opening, but we are not kept in suspense of the powerful friend that Isakov has in the symphony. Strings, woodwinds, percussion, and horns all come together to add a new layer to the song, while not changing its DNA altogether. "Big Black Car" makes the wise choice of showcasing Isakov's signature mandolin while the orchestra adds to the song's texture. Woodwinds and horns have a leading role as well, keeping with the pattern of different instrumentation getting the spotlight on the album. As I am a former trumpet player, their appearance is much appreciated. "Big Black Car" avoids turning the LP into a formula, in that it doesn't go the swelling chorus route. It's more understated.
Isakov frontloaded his best songs on Gregory Alan Isakov with the Colorado Symphony, which leads to the album faltering at its end. With a better finish this is a recommend without reservation; that being said this is one of the more unique and enjoyable listening experiences to be had so far this year. If you love big, sweeping music or orchestral music, Gregory Alan Isakov with the Colorado Symphony is a can't miss.
Key Tracks: "Dandelion Wine" / "Big Black Car" / "Amsterdam"
Artists With Similar Fire: Lord Huron / The Head and The Heart / The Lumineers

Gregory Alan Isakov Website
Gregory Alan Isakov Facebook
Suitcase Town Music
-Reviewed by Matthew Heiner

Latest posts by Matthew Heiner
(see all)