Girls Against Boys


The Ghost List EP
Epitonic [2013]



Fire Note Says: Girls Against Boys are back and The Ghost List EP sounds like they never left!
Album Review: Reuniting your old band is all the rave right now with The Breeders and Neutral Milk Hotel playing shows this year and we saw the release of new albums from The Ocean Blue and My Bloody Valentine. It has reached the point when it is not very surprising when another 90's act makes a return to the music scene, however, I will admit I smiled a bit when I received this new EP from Washington DC's Girls Against Boys. The band's dual bass assault put out three great albums on Touch & Go Records from 93'-96' before making a move to a major label which almost killed off the band completely. Girls Against Boys did rise again with 2002's You Can't Fight What You Can't See but then went dormant until now with The Ghost List.
When any band returns after a 12 year break you assume there could be some changes in their sound. Maybe not something totally different but let's face it – think how much you have changed in the last 12 years? The crazy thing about The Ghost List from Girls Against Boys is that it is undistinguishable from their earlier material. For me that is a good thing. The group always had a cool swagger to their tunes with the driving bass and lead off track, "It's A Diamond Life," feels like GVSB never went away. The track is a good reentry point to the band but the next two songs, "Fade Out" and "60 Is Greater Than 15", really showcase the group in full gear. The more pounding punk on "Fade Out" finds vocalist/guitarist Scott McCloud using his lower tone weathered vocals to guide the tune as it revs up and down. "60 Is Greater Than 15" has McCloud's more talking vocal keeping beat with the synth charges throughout the song and of course – its heavy heavy bass shakes your speakers to the ground.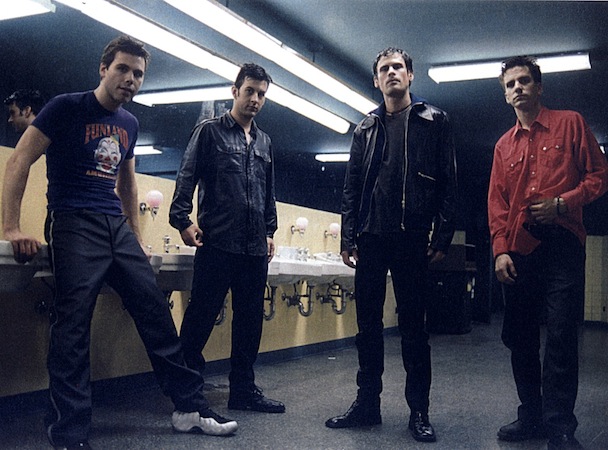 If you were a fan of this band back in the 90's, The Ghost List is a must listen because GVSB have absolutely not changed. There will be questions if the group should have showed some progression for 2013. I believe some will say yes but I am all about "do what you know and do it well." That is exactly what Girls Against Boys have done on The Ghost List EP and hopefully this reconnection will lead to a full length. That is where they can throw in some new grooves but regardless of progression, The Ghost List proves they are ready to offer more!
Key Tracks: "Fade Out", "60 Is Greater Than 15", "Kick"
Artists With Similar Fire: Fugazi / Brainiac / Jawbox

Girls Against Boys Website
Girls Against Boys Facebook
Epitonic
– Reviewed by Christopher Anthony

Latest posts by Christopher Anthony
(see all)