Schooner


Neighborhood Veins
PotLuck Foundation [2013]



Fire Note Says: Schooner goes adrift with their own brand of ramshackle, lucid pop.
Album Review: Durhan, NC's Schooner's sound is an interesting proposition: take some simple song structures and float them on a sea of dreams; then pair that with a bit of complexity, chill moods, 50's doo-wop, neo-soul, and 60's baroque pop and… well, for one thing it makes me think of a rarely used genre term, "croon-gaze." When not creating walls of noise or guitar-effects-driven rollercoasters, Schooner's Neighborhood Veins gives plenty of nods to today's artists as well: a more instrumental based Animal Collective (think Prospect Hummer EP), or at times Justin Vernon; a joyful Joy Division; Fleet Foxes minus the folk; and even the new/old acquired styles of Iron and Wine.
I'm not scolding Schooner for Neighborhood Veins, but for as many influences that they pile into the album they seem to lapse into a predictable pattern. For every soft tempoed, harmony-rich crooner on the album, there's always a back up track that kicks up the energy a couple of notches. Songs like "It Won't Matter" or the bouncy theatrics of "Trap" start the album off at a brisk pace. But the tempo takes a down-shift with the easy brass/guitar combo of "Floodlights and Ghosts." "Feel Better" picks back up right where the first two tracks left off, with a spooky wonderment and Reid Johnson's doo-wop vocal stylings.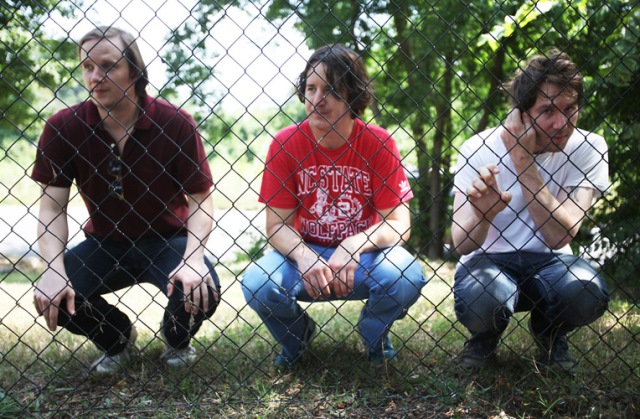 "Still in Love" keeps things very easy going, and while there is very little deviation from the mood it can still put a spell over you if you give it the time. "Ride with Me" showcases some of the LP's most lush arrangements; it's really a shame that they don't run with it a bit longer. "Flames" is a sappy, mid-tempo jaunt that includes a strategically placed singing saw—I'll always think In The Areoplane Over The Sea when I hear a singing saw—a nice nostalgia play.
What actually troubled and intrigued me at the same time was the album's title track finale. "Neighborhood Veins" isn't a song at all, but more of a chaotic collage to give the listener his/her parting pleasantries. Dose it make a statement? Yes, but its not clear what exactly we're supposed to be deciphering—but hey, that's why it's art.
Schooner's Neighborhood Veins is a lonely album: it can jump out at you or lie in wait as you try to figure it out. Taking its structure at face value might offend some listeners' intelligence, and the tone and mood might become too formulaic for some. But if given the chance, and if listened to in the right mood, Schooner has the ability to wrap you up in their boat under the stars.
Key Tracks: "Floodlights and ghosts", "Ride with me", "Flames"
Artists With Similar Fire: North Elementary / Max Indian / GROSS GHOST

Schooner Website
Schooner Facebook
PotLuck Foundation
-Reviewed by Christopher Tahy

Latest posts by Christopher Tahy
(see all)