Foo Fighters


Concrete And Gold
Roswell/RCA Records [2017]


Fire Note Says: On their 9th album, Dave Grohl's Foo Fighters deliver big hooks with bold grooves (and somewhat spacey lyrics), pure stadium rock god fodder.
Album Review: Dave Grohl has accomplished a rare feat in the modern music business world, playing in two of the most successful bands in their era: first as the drummer of Nirvana, and now of course with the Foo Fighters. In the 22 years since the band's debut, where Grohl played all the instruments, the Foo's have delivered big albums like The Colour and The Shape (1997), and big concept projects like the HBO show that documented the recording of Sonic Highways (2014), the band has grown to include 6 players, had enough rock radio airplay success to warrant a Greatest Hits release, and become one of the biggest concert draws – filling arenas all across the world.
On their ninth studio album, Concrete and Gold, we hear all that has made the Foo Fighters such a strong, reliable rock band, in a world that appears to be turning it's back on traditional rock acts. Working for the first time with producer Greg Kurstin, best known for work with Adele, instead of the band's long-time relationship with Butch Vig, which goes all the way back to Grohl's work in Nirvana, we find greater attention to background vocal harmonies and instrumental arrangements, but essentially we get what we have always come to the Foo Fighters to hear: Big, bold chorus hooks, solid rock grooves, forceful guitars, and impassioned vocals with the occasional punk rock screamer, and memorable songs that echo around your brain long after the amps have been turned off.
One of the things that we learned as the show "Sonic Highways" led Grohl and company to places like Nashville, New Orleans, and L.A., was the fact that while Grohl exhibited endless curiosity and became a cheerleader for a lot of great artists, his knowledge and experience of music was pretty much limited to punk and metal. While it was fun to hear him work a quote from Buddy Guy into a lyric, or bring in blues guitarist Gary Clark Jr. for a solo, but you really never hear the music's compositional formation impacted by the blues or gospel sounds Grohl encountered. So, it is here on Concrete and Gold, Grohl and his steady coral of Foos – drummer Taylor Hawkins, additional guitarists Chris Shiflett and Pat Smear, bassist Nate Mendel, and keyboard player Rami Jaffee – where the band remains constant, delivering up the expected goods on solid rockers like "Run," "Make It Right," "La Dee Da," and the anthemic "Sunday Rain."
Of course for the most part, lyrically the subject matter is pretty banal and predictable: "Run for your life with me"; "Hop on the train to nowhere baby"; "You had arrows in your eyes… War on your mind." Except, of course, where the lyrics are acid trip crazy, like "Heaven is a big bang now/gotta get to sleep somehow/banging on the ceiling" or "Turn up the American Ruse/Whitehouse, Death in June/Jim Jones painting in a blue bedroom," or, well, you get the point. But nobody turns to the Foo Fighters for Bob Dylan like insight or poetry, on the band's debut, Grohl reminded us in the song "This Is a Call" that "fingernails are good," and I can't disagree, but WTF?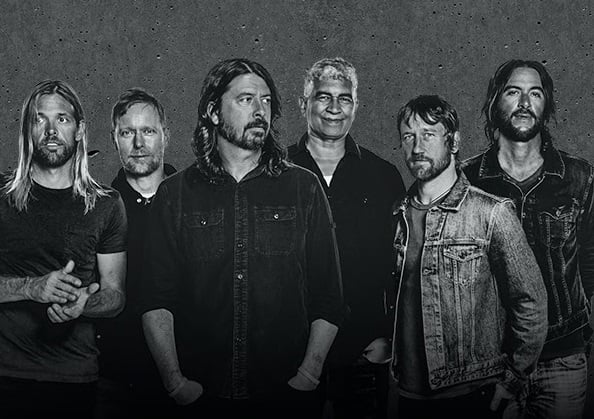 Where Foo Fighters and producer Kurstin totally excel on Concrete and Gold, is sonically… this album just sounds great start to finish. They seem to love that trick where the CD's opening track "T-Shirt" starts out so quiet that you instinctively turn it up to hear the vocal, and then the band comes in full and loud and you immediately have to turn it back down. The guitars sound fabulous and make great use of stereo and the band's organic flow from softer sounds to full on rock tones, and when the drums come in, perhaps because Grohl as a former drummer is sensitive to the issue, you can real feel them in the mix, most noticeably on when the drums are filling dead space like the open of "Make It Right," and when Hawkins goes around the tom-toms as if he were Neil Peart of Rush.
And, vocally, Grohl is able to move back and forth from that full throated Ozzy scream to his lower register singing voice without apparent damage, which works with these songs just as it has on past recordings and tours, he's a fine multi-talented rock artist, to state the obvious. There are a couple of softer tracks to offer a necessary change-up curve ball, like the front end of "Dirty Water" and the whole of "Happy Ever After (Zero Hour)," the basic framework of the album clings to their more familiar and reliable rock song format. Of course, you can hear some of Grohl's most obvious influences, a Beatles tone here, a tip of the hat to Pink Floyd on the band's title track, and the familiar vibe of "Sunday Rain," the one song where Hawkins sings lead.
But, given that albums, records, radio airplay have all had better days, the place where Foo Fighters have always proved their mettle has always been in the live shows, and that's where these songs were designed to shine, in the band's three hour rock shows in stadiums across the country where Grohl is an honest to goodness rock god. Something he proved without a doubt, when he broke his leg two years ago, and performed from the movable throne he'd created to fulfill his touring schedule. Rock bands may in fact be going the way of the buffalo, or maybe once again it will rise from the ashes in a fresh new form because some young kid picks up a guitar and starts her own revolution. In the mean time we'll have the Foo Fighters to keep the ringing in our ears alive and well.
Key Tracks: "Make It Right" / "La Dee Da" / "Sunday Rain"
Artists With Similar Fire: Queens of the Stone Age / Bush / Audioslave
Foo Fighters Website
Foo Fighters Facebook
RCA Records
– Reviewed by Brian Q. Newcomb
Latest posts by Brian Q. Newcomb
(see all)