Eleanor Friedberger


Personal Record
Merge Records [2013]



Fire Note Says: Sophomore album Personal Record secures Eleanor Friedberger's full time status as a solo act.
Album Review: With The Fiery Furnaces on a hiatus it seems like the perfect time for Eleanor Friedberger to release her sophomore album Personal Record. The record once again highlights her strong vocal talent while taking a few more risks and showing a wider diversity of sounds that work well with her excellent songwriting.
Even though the album is titled Personal Record there is no indication that any of these stories about love or love lost is about her and seems to be intentionally left as a universal fit for all who listen. This connection explains how the record's laid back summer breeze vibe instantly heightens your mood. Songs like the upbeat "When I Knew" and "Stare At The Sun" are prime examples as they have a sunny upbeat tempo which sounds like a cool combination of the stylistic modern Isobel Campbell with the more pop rock of Liz Phair. It is sophisticated meets free, proper joins wild and sweet gets nasty. On more than one occasion, a very warm late 70's – early 80's sound comes through loud and clear like on the jangly "My Own World" or the Hall and Oates "Maneater" nod during the beginning of "She's A Mirror". These catchy combos propel Personal Record to another level and have Friedberger's delivery coming off flawless.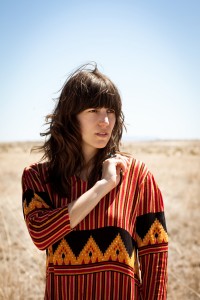 If you liked Eleanor's solid debut, Last Summer (2011), then checking out Personal Record is a no brainer because it is better. It is an album that after just one listen you can tell that Friedberger can easily carry a solo career and at this point The Fiery Furnaces seem like a distant second. With flare in all the right places, Personal Record is an album that sits with you like a good drink – after you finish – you will ask for some more and Eleanor Friedberger is right there to fill your glass!
Key Tracks: "When I Knew", "Stare At The Sun", "She's A Mirror"
Artists With Similar Fire: Patti Smith / Isobel Campbell / Cat Power
Eleanor Friedberger Website
Eleanor Friedberger Facebook
Merge Records
-Reviewed by Christopher Anthony

Latest posts by Christopher Anthony
(see all)