Detroit Rebellion


Fork In The Road EP
Self-Released [2013]



Fire Note Says: Detroit Rebellion creates murky garage blues that has potential.
Album Review: First things first, Detroit Rebellion isn't from the motor city. This might come as a shock to you but the duo hails for Providence, Rhode Island. That does not mean that they don't share some common ground with Detroit rockers The White Stripes as duo Jeff Toste and Michael Lamantia Jr. play a garage blues guitar, vocal, and drum that cultivates a sound that is actually closer related to the sexy, sinister string slings of The Dead Weather's Dean Fertita. Or, a sound that goes for the vintage, plunk strum of The Kills' ax handler Jamie Hince. Put this all together and you have my ear, that's for sure.
Detroit Rebellion's Fork In The Road EP is a grimy motor mouthed Frankenstein all its own. Title track, "Fork In The Road" keeps an ongoing motor rumbling guitar churn as Toste's vocals pave over top. "Dirty Boots" emulates a rough n tumble delta blues gallop in a modern context. Toste's vocal prowess really comes to form as he goes for a convincing guttural blues rasp. "The Fire, Devil & Desire" became a high point for me on the EP. Yes, it's a straightforward rocker that chugs ahead at full speed. It also has hidden within the track; Hindi influenced guitar structures that rock just as hard. Final track, "Nothing To Lose" anchored by the slinky sex appeal of drum pitter patter; Toste carries a simple and affectively dark string pattern. The jazzy vocals add to the tracks air of mystery as the album burns down to the end.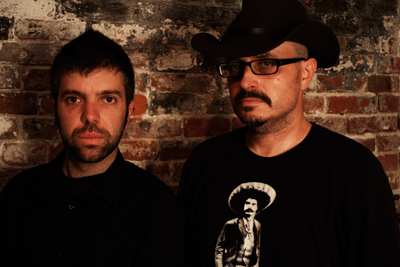 Detroit Rebellion's Fork In the Road EP gets me really excited. If you pair the song up with other bluesy rockers for a full length, you may have something here. Detroit Rebellion's grimy, groovy, and jazzy blues laced tunes don't reinvent the wheel. They just add a bit more spokes for ingenuity and stability. Then they floor it through the gunky swamp for texture. These guys show some promise and I invite you to give me your take.
Key Tracks: "Fork In the Road", "Dirty Boots", "The Fire, Devil & Desire"
Artists With Similar Fire: The Kills / The Dead Weather / Leadbelly
Detroit Rebellion Website
Detroit Rebellion Facebook
-Reviewed by Christopher Tahy

Latest posts by Christopher Tahy
(see all)