Destruction Unit


Live In San Francisco
Castle Face Records [2015]



Fire Note Says: Exhilarating psychedelic freak-outs from Arizona noise rockers.
Album Review: Count me as a huge fan of the Live in San Francisco live series brought to us by John Dwyer and Castle Face Records. The whole series has been remarkable and well worth collecting, some like White Fence's entry, have been career highlights, while others like The Ty Segall Band's serve as both a handy retrospective and further proof of their dominance on the rock scene. The series has also brought to my attention a few bands that I had little knowledge of, the first was OBN III's and now the second is Destruction Unit. This Arizona trio whips up a sonic fury on this 4 song set of highly exploratory psychedelic guitar rock, long on feedback and atmosphere, which really seems to come to life on the live San Francisco stage.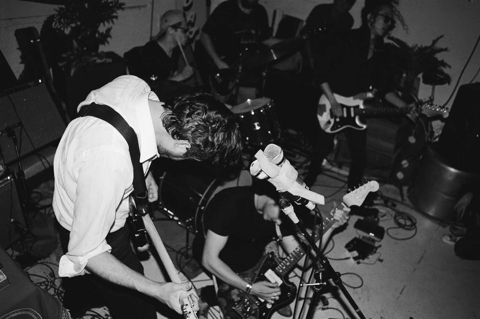 The band truly live up to their name on Live in San Francisco, in fact, they sound downright nasty on this album. Wielding their musical instruments like weapons, they create a cacophony of sound which both overwhelms and excites the senses at the same time. I can only imagine what it must have been like to witness this set live, intense, brutal, and thrilling are a few adjectives that come to mind, but I doubt even those words do it adequate justice. The four songs on this album, are songs in the sense that each has a beginning and end, and occasionally there are some vocals, but it's really all about the mood that is created by the chaos. It is also remarkable that Dwyer was able to capture the sonic detail that he did on this live album, I could see this easily ending up being a mess sonically, but he did one helluva job, there is detail and separation between the instruments, and it blends in and out just as it should. This was never going to be a record that you listed to every day, but it is a powerhouse live document to pull out and marvel over from time to time. Put your headphones on and blast off into outer space with Destruction Unit. If the 15 minute version of "Night Loner" that closes the album doesn't rip your head off, I fear that nothing will.
Key Tracks: "Night Loner" / "The World on Drugs" / "Bumpy Road"
Artists With Similar Fire: Hawkwind / Bardo Pond / Ty Segall Band

Destruction Unit Facebook
Castle Face Records
– Reviewed by Kevin Poindexter

Latest posts by Kevin Poindexter
(see all)