Deap Vally


Sistrionix
Island Records [2013]



Fire Note Says: Deap Vally bring a familiar bolt of rock forward with their own style.
Album Review: Rock n roll will never die and LA group Deap Vally are a good example why. The duo made up of guitarist and vocalist Lindsey Troy and drummer Julie Edwards create a true all female version of The Black Keys and The White Stripes with their revved up garage rock that is fueled with vigor from track one through track eleven. The band hits way harder on their full length debut, Sistrionix, than you would ever imagine and for all listeners that give this record a chance that is a good thing.
With razor loud guitars that will remind you of some classic rockers like Heart or Led Zeppelin, Deap Vally don't necessarily bring any new dynamic to the genre but you will fully admit that these two ladies can rock. Even though the band has the riffs of the past, Deap Vally have this modern flare most used currently by The Black Keys. I almost think that indirectly the Keys current mainstream popularity helped Deap Vally get signed to a major label for their full length debut Sistrionix. You can just hear that type of blues rock sound running through Sistrionix. That is not necessarily a bad thing because Troy has some strong throaty chops and attitude to carry this album even if it may lack some overall originality.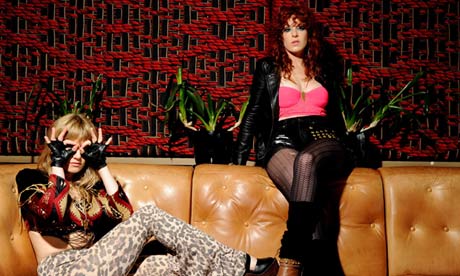 If you heard the Get Deap! EP from the duo back in April then Sistrionix will feel like the welcomed extension. Three of the four songs on the EP appear here and they are all solid tracks. Moving beyond older territory there are some fresh tracks on Sistrionix that help make the album memorable. "Baby I Call Hell" is one of the stronger songs on the album with its pulsing riff and its "oh oh ohs" chiming in the background. I also think the guitar work in "Your Love" sizzles and shows a greater depth to Deap Vally.
The end of the record suffers some from redundancy as the last three tracks are somewhat forgettable because they have the same sound. This is where I think Deap Vally needs to grow for a sophomore outing because there is only so much of the same hard riff and harsh vocal sound you can put out there. With that said, Deap Vally bring back memories of the great female LA band L7 and moments of Joan Jett's no nonsense approach. That sort of history is not easy to replicate and Deap Vally do well combining that past with their own infused punk blues rock that works for most of Sistrionix. This album could have easily been terrible but Deap Vally have a swagger and confidence that push Sistrionix to the next level and will keep you coming back for some of these well-crafted hard knocks.
Key Tracks: "Baby I Call Hell", "Gonna Make My Own Money", "Your Love"
Artists With Similar Fire: The Black Keys / L7 / The White Stripes
Deap Vally Website
Deap Vally Facebook
Island Records
-Reviewed by Christopher Anthony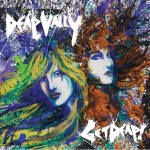 Deap Vally: Get Deap! EP [Album Review]

Latest posts by Christopher Anthony
(see all)