Crazy Joe


The Doctor Is In!
Self-Released [2013]



Fire Note Says: Crazy Joe makes a strong return with his retro roots album The Doctor Is In!
Album Review: The Doctor Is In! marks the first album from Crazy Joe in six years and it finds his sound shifting from a rockabilly flavor to a smoother more traditional retro roots sound. The album itself was recorded with care as it features a 100% analog recording and mastering on Joe's custom-built analog audio gear which sets the stage here for a solid listen. Now depending on your musical pallet you may leave this party quickly but even if you don't think Crazy Joe's style is a fit for your ears, I challenge you to stick around. I say this because like the great Bill Haley, The Blasters or even the instrumental guitar workings of Duane Eddy, Crazy Joe pays an honest tribute to the best while creating a mark all on his own.
If you have followed Crazy Joe in the past you already know that he is very good at working subtle humor into his lyrics and The Doctor Is In! brings the same skill forward. On the toe tapper "Wasted" he talks about an evening out with his date that goes horribly wrong when she tips back one too many times. Lines like "hoping to God you don't throw up in my car" and "now you can't find your shoes; because you drank too much booze – girl your wasted" will make you smile and its lyrical wordplay gives the song a memorable edge. On "Please Don't Call Me", Crazy Joe sings about a whacked girlfriend that he wants to just go away as simply stated with the line "anyone can tell that you're crazy as all hell; so please don't call me –ever again; this madness has to stop before I call the cops – now please don't call me!" This type of story with the strolling tempo of the track easily connects with listener and reminds us all of that one relationship that just couldn't end fast enough.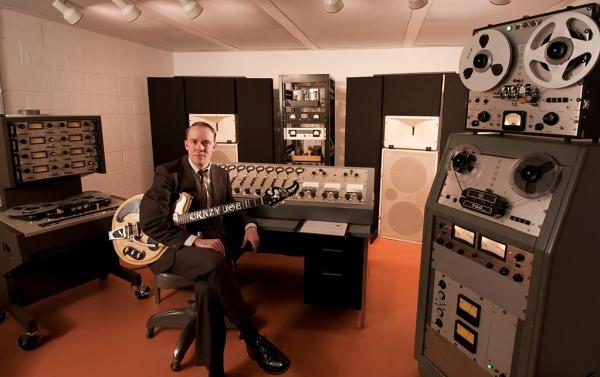 For the most part Crazy Joe sticks with a mid-tempo retro roots vibe throughout The Doctor Is In! but he does show other variations of the style with the short rocker "(You're An) H-Bomb" that is backed up with a solid surf guitar riff while the instrumental "Snakebite!" shows off Joe's sonic skills as the track just slithers through your speakers. At thirty minutes long there is not any filler on this album and if you are into this type of music The Doctor Is In! is a no brainer – you will enjoy it from beginning to end. For me, The Doctor Is In! is not an album that I will consistently go back to but I have complete respect for Crazy Joe's talent, recording process and likability. The album really does sound great – especially on vinyl and it is perfect to just put on. His music is always good for a smile and this album easily will grow on you even if this may not be your typical genre. So give Crazy Joe a try for something different because he may just be the doctor you need!
Key Tracks: "Wasted", "(You're An) H-Bomb", "Please Don't Call Me"
Artists With Similar Fire: The Blasters / Bill Haley / Deke Dickerson
Crazy Joe Website
Crazy Joe Facebook
-Reviewed by Christopher Anthony

Latest posts by Christopher Anthony
(see all)