Chad VanGaalen


Shrink Dust
Sub Pop Records [2014]



Fire Note Says: Shrink Dust is an "everything but the kitchen sink" album that works.
Album Review: Chad VanGaalen seems like he's probably a pretty busy guy. When he's not building monster heads to mount on the roof of his house or creating animated sci-fi movies, he makes music under several different aliases (Black Mold, Banana Bread, Gem Clouds, etc.). Shrink Dust, his fifth release under his own name, is apparently part of the soundtrack to his animated film, but this isn't your typical sci-fi score. Described by VanGaalen as "a country record," Shrink Dust is much more than either of those things, an eclectic album brimming with ideas over its forty-one minute length.
The way the record starts, you could almost believe VanGaalen's statement about this being a country record—"Cut Off My Hands" is a relatively sparse acoustic track, with VanGaalen's (early) Neil Young-esque vocals front and center, though the subtle electronics and woodwinds that emerge about half-way through hint that this album isn't going to be a straight folk or country affair. In fact after the opening track, purely acoustic moments are the exception rather than the rule: "Where Are You" bursts out of the speakers with its bass-heavy drum beat and guitar feedback, VanGaalen's processed vocals echoing through the spaces in between, and cuts like "Leaning on Bells" continue the heavy weirdo garage vibe.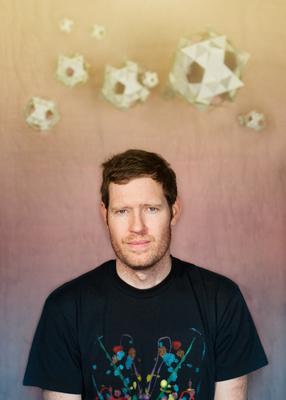 The best moments on the record happen when VanGaalen pours all his creativity into crafting catchy, trippy pop tracks. "Frozen Paradise" starts with reverbed guitar and slowly adds break beats, swirly synths, and VanGaalen's ethereal vocals; it's subtle, but effective. "Monster" is another highlight and may just be the best track on the album, combining rambling shuffly drums, acoustic guitar strums, stacks of vocal harmonies and an earworm melody that you'll find yourself humming long after the record is over.
There's really not a bad song on Shrink Dust, and about the only negative thing you could say about it is that for some reason it can seem overly long despite its fairly standard running time. That's a minor quibble, though; this is a catchy and weird (in all the right ways) psych pop album, and one that you should check out—it really does have a little something for everybody.
Key Tracks: "Monster," "Frozen Paradise," "Where Are You?"
Artists With Similar Fire: Father John Misty / Surrogate / Phosphorescent

Chad VanGaalen Website
Chad VanGaalen Facebook
Sub Pop Records
-Reviewed by Simon Workman

Latest posts by Simon Workman
(see all)