Bishop Allen


Lights Out
Dead Oceans [2014]



Fire Note Says: Bishop Allen returns with a solid if unspectacular effort.
Album Review: Bishop Allen had been on a five-year hiatus until the release of their fourth LP Lights Out in August 2014. The Boston band's primary members are Justin Rice and Christian Rudder; this album showcases Darbie Nowatka on vocals and keyboards as well. After five years it would seem that a band would come back with guns ablaze. This is not the case with Lights Out though. It offers some nice moments and general musical pleasantness but there is not much that screams greatness or urgency.
Lead single and album opener "Start Again" serves as a primer for the rest of the album. With a jangle-rock/power pop tone it's an easy listen. Rice's vocal delivery is rather subdued but his lyrics are dense and literate. That happens to be one of the strengths of Lights Out. I found myself paying attention to the lyrics and getting drawn into the stories they told. That definitely speaks well for the songwriting but also for the lack of luster that the music itself brings to the table. The track that best encapsulates that sentiment is "Skeleton Key." I believe I would've preferred to read that story over hearing the song.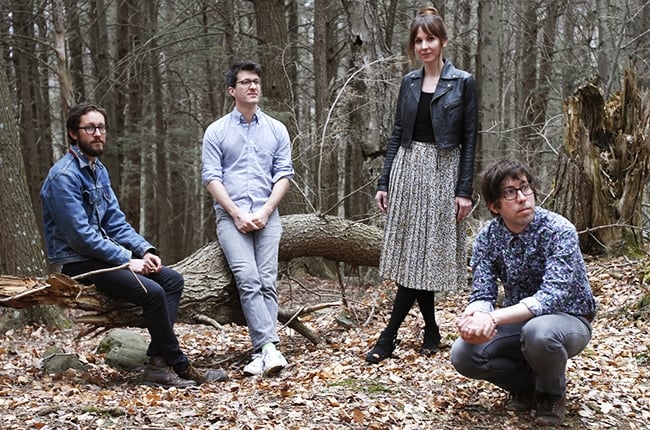 Much of the album follows the pattern of "Start Again." One exception to that is the album's last track, "Shadow." Darbie Nowatka has vocal duties on this acoustic track; she is accompanied primarily by a sweetly-strummed guitar. It's a nice way to wrap up the album and hints at what inspired Bishop Allen to make this LP. Lights Out is a step towards renewed viability for Bishop Allen. It doesn't hit on all cylinders but shows that the band is growing in exciting ways.
Key Tracks: "Start Again" / "Crows" / "Shadow"
Artists With Similar Fire: Dawes / Paper Lions / Noah And The Whale

Bishop Allen Website
Bishop Allen Facebook
Dead Oceans
-Reviewed by Matthew Heiner

Latest posts by Matthew Heiner
(see all)