Beverly


Careers
Kanine Records [2014]



Fire Note Says: Promising debut album from Frankie Rose and Drew Citron.
Album Review: Beverly is a duo consisting of Drew Citron and Frankie Rose. The pair spent the bulk of 2013 on the road together as Citron played In Frankie's band. The roles are reversed on Careers, the first album from the band. Citron handles the bulk of the load on in the band with Rose content to step out of the limelight a bit and handle the band as more of a side project. But make no mistake, this is no mere side project for Citron, this is the main outlet for her creative urges, and on Careers we get a great mix of lo-fi, pop, punk and shoegaze, with hazy guitars and dreamy harmonies.
There are so many bands out there that are doing this kind of music right now, Dum Dum Girls, Best Coast, La Sera, etc…so many in fact that it's easy to get lost in the shuffle. What sets Beverly apart and makes Careers a bit different than the others is that it has a heavy Kim Deal influence. When I listen to "Madora" and "All The Things You Do" I instantly think of The Breeders and Deal's other lesser known project, but equally as awesome The Amps. These songs have the great chorus's, but they also have an edge to them, the edges are still jagged and that makes it infinitely more interesting to me. It really all came together for me with "Planet Birthday" a huge song driven by pounding drums and buzzsaw guitars, with a sweet as honey vocal. It's aggressive as hell, but catchy and melodic. The two sides pitted against each other makes for great listening. "Honey Do" is another outstanding song, a bit slower than the others I have mentioned, and certainly more dreamy, but no less excellent, just different.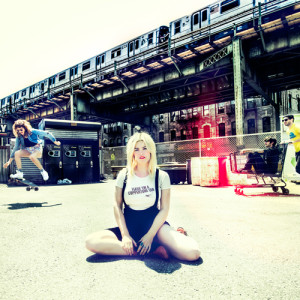 All four of the songs that I have mentioned are on the front half of the album, and pack a monster punch to open the album, the other 6 songs on the album (with one of them being an instrumental) are not as exciting as the opening and knock the score down somewhat, none of them are outright duds, in fact, they are pretty good, they were just a notch lower for me, if the first part of the record rates a 4, the second half of the record rates somewhere between a 3 and 3 ½ bringing the overall score down a bit. Album closer "Black and Grey" was my standout track on the second half of the album, it's a slow number, built on sparse bass and guitar, and a great vocal. It's a fitting close to a really promising debut. It's not clear if Rose will continue to record with Beverly, she isn't touring with the band, but Drew Citron is certainly capable of caring on the project without here, she has the goods and Careers is a very promising debut.
Key Tracks: "Madora"/ "Planet Birthday"/ "All The Things You Do"
Artists With Similar Fire: The Breeders / Best Coast / Dum Dum Girls

Beverly Website
Beverly Facebook
Kanine Records
– Reviewed by Kevin Poindexter

Latest posts by Kevin Poindexter
(see all)