Babyshambles


Sequel To The Prequel
Parlophone Records [2013]



Fire Note Says: Babyshambles are back and better than they have ever been on Sequel to the Prequel!
Album Review: I had no idea that there was a new Babyshambles record coming out this year, in fact, it had already been out for well over a month before it came to my attention. Has Pete Doherty's profile in the US really come to this? Is he really this much of an afterthought, barely warranting any attention? That's a damn shame, because ever since the Libertines imploded, he has been putting out really good music, both with Babyshambles and as a solo artist. Doherty will never be accused of being prolific, this is only the third Babyshambles album since 2005, but it's the best of the three by a country mile.
Doherty has always favored his music to be on the edge of falling apart, it's sloppy, but it's almost always catchy. He had previously shown of a softer folk oriented side on 2009's solo record, Grace/Wastelands, and Sequel to the Prequel seems to bridge the gap between that album and the first two Babyshambles albums. The band, which also includes Drew McConnell, Mik Whitnall, and Adam Falkner, are the perfect foils for Doherty's songs. They adeptly follow him to wherever his muse takes him, at times it's still sloppy, but it's always tuneful, and never crosses over from loose to terrible. In fact, the band has done a great job of keeping Doherty's scattershot vision streamlined, the record doesn't feel as all over the map as previous records. Its vision is clear and cohesive. Songs like the title track, which is a more piano based song, sit comfortably alongside more familiar Clash inspired fare such as opening track "Fireman", which itself is a less than two minute classic Pete riff driven barnburner. "Nothing Comes to Nothing" is the hit on the record (at least in my world if not on the charts). It's the perfect Babyshambles pop song. It's insanely catchy and expertly played. The fact that it hasn't dominated the charts is a testament to just how much damage Doherty's well publicized problems have help to derail his career. Songs like this, show that despite all of that stuff, he is still a supremely talented guy and deserving of our attention. "Farmer's Daughter" is another winner, its mellow laid back vide fits Doherty's garbled vocals perfectly. The guitars are golden on this one; it's the kind of riff that Keith and Mick Taylor used to crank out daily back in their Stones heyday.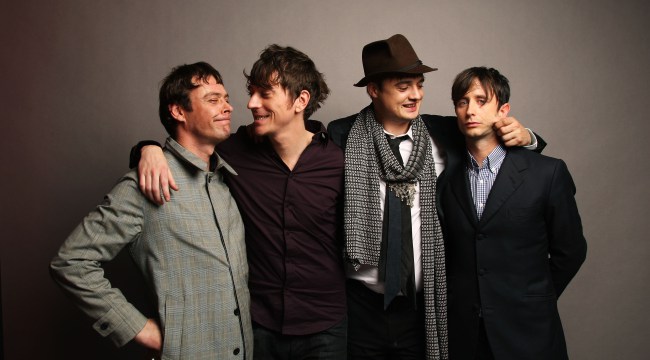 I'm not sure exactly what to attribute this too, but this band and Doherty sound more focused than they have ever been. It would be outstanding if this was the record that helped to bring them back to some sort of relevancy here in the US, rather than leaving them relegated to some sort of asterisk status in the history of The Libertines. This band and this record in particular, are too good for that. Babyshambles are back, and better than they have ever been.
Key Tracks: "Farmer's Daughter", "Nothing Comes to Nothing", "Fireman"
Artists With Similar Fire: Arctic Monkeys / Dirty Pretty Things / The Libertines

Babyshambles Website
Babyshambles Facebook
Parlophone Records
– Reviewed by Kevin Poindexter

Latest posts by Kevin Poindexter
(see all)