Army Navy


The Wilderness Inside
The Fever Zone Records [2014]



Fire Note Says: Power-pop purveyors Army Navy's third LP is polished and professional.
Album Review: Los Angeles' Army Navy is fronted by Justin Kennedy, who has bounced around indie music for quite a while now. Louie Schultz and Dougal Randall round out the band, whose aesthetic is clearly in the power pop realm. Jangly guitar, reminiscent of Big Star and college radio-era R.E.M., form the foundation of almost all the songs on The Wilderness Inside. As a power pop enthusiast Army Navy's previous releases have been like musical honey to my ears. This new release continues the trend but lacks some of the punch of the band's prior work.
The Wilderness Inside gets off to an understated start with "In Waves." A bit moodier and darker in tone, it fits well within the tone of the album. Things pick up during the chorus but never quite grab you. The production is subdued as well – you almost get the sense of being underwater due to the way the sound has a stifled feel to it which makes the title more apt. The next song "The Mistakes" is more of a power pop tune with lovelorn lyrics. Kennedy's slightly sweet, slightly sad vocals make for a bittersweet confection that gels with the music.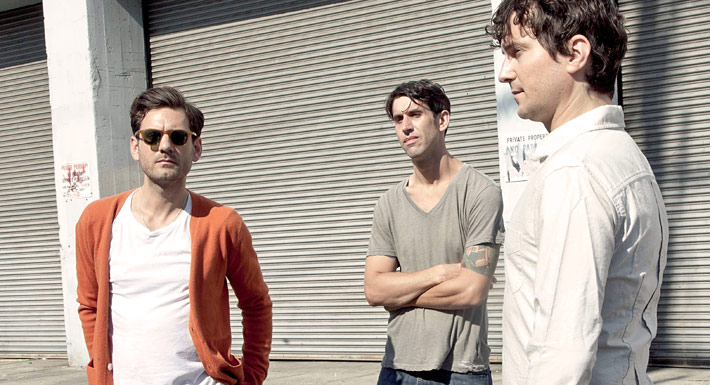 "Crushed Like The Car" was the first single released from The Wilderness Inside, and for good reason. Pulsing guitar and drums punctuate each opening note, only to be met with vocals and minimal instrumentation for the impending bridge. Kennedy's confusion and longing eventually devolve into a chaotic guitar solo that leads to even more cathartic confessions. "Crushed Like The Car" is one of the highlights of this album. Another standout includes the breezy ode to vinyl "Spinning On The Record." For all of us life-long music fans this track will strike a nerve and make you feel both very young and quite old at the same time.
Army Navy have made a really good album – it's somewhat forgettable though. You may find yourself listening to it and realizing that it's come and gone without noticing. I wish there was something that stood out in either tone or sound, but the album tends to run together. This is an album for those who appreciate the power pop genre, and of course, for previous fans of Army Navy.
Key Tracks: "The Mistakes," "Crushed Like The Car," "Spinning On The Record"
Artists With Similar Fire: Big Star / Surfer Blood / Mikal Cronin

Army Navy Website
Army Navy Facebook
-Reviewed by Matthew Heiner

Latest posts by Matthew Heiner
(see all)