Arcade Fire


Reflektor
Merge Records [2013]



Fire Note Says: Arcade Fire have created a massive art-rock record that is grandiose in every superb way!
Album Review: "Magic Mirror, on the wall, who is the biggest band of them all?" Arcade Fire of course is the correct response and after taking on this behemoth of a record titled Reflektor that is exactly what the band wants you to believe. Spread out in a double album format and a total running time of 76 minutes you automatically can feel the density of Arcade Fire's fourth long player but there is something much bigger going on here. Reflektor goes for it. The band swings for the fences in every way, on every track and won't take no for an answer in all of its musical beauty and artistic chaos.
From the opening title track, Arcade Fire set the tone for what will be a wild, yet rewarding ride. Hell, the first track is not only musically the longest on the album but features David Bowie singing some backup vocals. Really, David Bowie?! That is right – Bowie. This song is a big spotlighted and highlighted track that is danceable, rockable, memorable and groovable. These little details continually show up throughout Reflektor and give it such depth that the album sounds like a new experience with each spin. The simple foot tapping beat on "Here Comes The Night Time" is an addicting backbone that swirls out of control for a good minute, complete with horns and harmony vocals before settling right back into the single beat as the song concludes which sounds spectacular. The group sing along moments in "Awful Sound (Oh Eurydice)" make you want to join in. The start-up rhythm on "It's Never Over (Oh Orpheus)" is completely memorable as it has a very rock pulse without rocking out. "Joan Of Arc" starts with Win Butler giving his best distorted punk rock delivery, complete with some speedy guitar for 20 seconds, before the song drops its tempo quickly to a swaggering beat and turns the track into something else. This type of turn on a dime transition works to keep the listener engaged and guessing. It is a risky style maneuver that has a huge pay off for Arcade Fire that also gives kudos to the band for selecting LCD Soundsystem's James Murphy as a producer. His imprint does not stand out but is noticeable. That is exactly the guidance any band wants from a producer and Arcade Fire truly benefit from Murphy's involvement.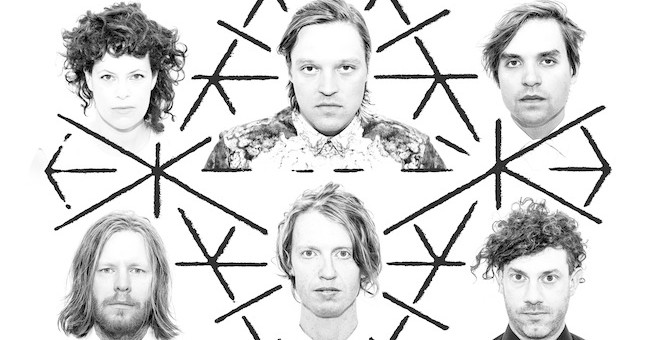 Go back and listen to Prince's Sign o' the Times, The Stones' Exile on Main Street, or The Beatles' White Album. Art-Rock records have always been the album that bands are remembered for. I am not saying that they are the best in the group's catalog but they were this massive, overachieving, risky and in many cases, a sophisticated mess (in every good way possible). Those albums challenged the listener and almost dared anyone to put some headphones on and listen to the entire thing in one sitting. Those records also were, for the most part, all over the place stylistically. Let's face it – if I was going to play the same rock song or style over and over to you for 76 minutes, it would get really boring really fast. Well Reflektor recognizes that and offers something different around every corner. Casual listeners and even fans won't get this album. They won't grasp the complexity of all its nuisances. I will even admit that after listening to this beast of record for three straight days – I am not sure I have really heard it all. That is exciting to me!
A person asked me this weekend, "Is Arcade Fire still a little full of themselves?" I replied absolutely yes! I believe the title itself means that whatever you want to hear is going to be "reflected" back to you. Some fans are going to have preconceived opinions before even giving Reflektor a spin and that it ok because I feel that is what Arcade Fire would like to happen. Peer back into yourself – you may either love or hate what you find. For Arcade Fire their confidence is what makes Reflektor so solid. They look into the mirror and see no boundaries, no borders and no limitations. What do you see?
Key Tracks: "Here Comes The Night Time", "Joan Of Arc", "Afterlife"
Artists With Similar Fire: David Bowie / U2 / The Rolling Stones
Arcade Fire Website
Arcade Fire Facebook
Merge Records
– Reviewed by Christopher Anthony

Latest posts by Christopher Anthony
(see all)