Andrew Bird / Iron & Wine Outside Problems Tour w/ Meshell Ndegeocello: PNC Pavilion; Cincinnati, OH; Thursday, August 4, 2022
The sky was dark with storm clouds on Thursday evening as fans began to gather in the PNC Pavilion, the smaller venue at the Riverbend/Coney Island park, and while there was a loud crack of thunder during Meshell Ndegeocello's opening set, and mild rain for an hour or so, there was a nice breeze moving through the less than a third full covered venue for the Outside Problems Tour.
Taking the stage with a trio of support players – bassist, drummer, and keyboard player who also added acoustic guitar from time to time – Andrew Bird picked up a violin and began playing a brief lovely bit of classical music, no doubt something he'd learned in early training. Once sure all were ready, he played the memorable opening melody lines of "Make a Picture," the opening track from his most recent release, Inside Problems, a record that has grown on me significantly since reviewing it back in early June. Like much of Bird's newest music, and many of the things he played on Thursday night, he exhibited his mastery of his primary instrument with rich intonation as he bowed the fluid melody lines, he'd composed, but also plucked the strings for a unique sound that adds to Bird's sophisticated pop/rock style, and of course he whistles. I mean, Andrew Bird whistles a lot, like on practically every live song, often whistling elaborate melodies in harmony with his violin playing, something you just don't hear every day.
Something else you don't hear every day is the loud buzzing electronic noise that interrupted Bird and his band about two thirds of the way through their first song. It was never apparent if this was some kind of feedback or just the overdriven electronics of the P.A. system, but it lasted for a good 10 seconds or longer, and then disappeared with all the lighting and sound equipment on and no worse for wear. It was never explained, and never came back, and once Bird had regained his composure, he started singing and playing the last verse of "Make a Picture," the band immediately back in sync like the pros they obviously were.
"I'm awake now," Bird said, deadpan, and led the band into another from the new album, "Lone Didion," a smart, crisp pop song about the author Joan Didion eating at her favorite restaurant alone after her husband's death, with those tasty plucked notes of the melody. The followed that with the percussive drive of "Atomized," which finds Bird singing the same melody he was playing on his violin, followed by the chant-like backing vocals of his bandmates. Again, Bird's dramatic violin-playing and whistling were captivating and richly musical.
At this point, Bird reached back to his 2019 release, My Finest Work Yet, for "Bloodless," for which the female bass player moved from her guitar to an upright double bass (I tried like crazy to find the names of Bird's bandmates online, and they're not listed anywhere; he of course shouted out their names over music at the end of the set, but that is never much of a help.). Bird then moved to acoustic guitar for that album's great opening track, "Sisyphus," about the guy in Greek mythology who pushes a large boulder up a hill each day only to find it back at the bottom the next day, as a metaphor for the futility of human existence. This is one of the appealing aspects of Bird's songwriting, it's unique literary references and his literate, elaborate imagery and rhyming skills. This one was delivered with the whistled melody line, enhanced by smart accents from the keyboard player and drummer's added punch.
At this point, buoyed by the audience's warm responses to his music and fully recovered from that loud annoying disturbance early in the set, Bird shared that he'd enjoyed being out and about in Cincinnati the day before, walking some park trails, and then introduced a song that had not been on the setlist at previous shows. It was a request, Bird said that was made by a fan who met him in the elevator that morning in the hotel, leading him to play through the first two verses of "Masterfade," a song that dates back to 2005, something for which the band members were unprepared to contribute. Then, Bird and his crack band delivered two more from the latest album, "Underlands," a tender song celebrating the changing stages of the moon, which was displayed in full on the large screen behind the band, and "The Night Before Your Birthday," a love song with a big pop chorus hook.
At this point, the backing players left the stage as Bird was joined by the solitary Sam Beam who performs under the moniker of Iron & Wine. "We've been learning a few of each other's songs," suggested Bird and they began singing Beam's "Flightless Bird, American Mouth," sharing the high vocal harmonies on the chorus, Beam playing acoustic guitar, and Bird adding a violin and whistled solo. Beam who'd told the crowd during his opening set that Bird's whistling reached high notes you rarely hear, said "See, I told you," as the crowd was applauding. Bird introduced his song "Oh No" saying that the inspiration was hearing a child on a plane repeating this phrase, which again included warm vocal harmonies, while Bird whistled as he plucked the same melody on his violin strings. When they finished Beam proclaimed, "Who is this birdman?"
Another Iron & Wine song followed, "Muddy Hymnal," with Beam finger-picking his acoustic, while Bird played another fluid violin solo, as the duo trading singing lead on the verses. For Bird's "Left Handed Kisses," Bird announced that this song from 2016 was actually recorded as a duet with Fiona Apple, saying that he was "singing Fiona's part," to which Beam responded, "because Fiona would never wear a beard, obviously." The rhythm section had returned to support then on this one, as Bird also moved to acoustic guitar, which brought the whole band back for "Father Mountain," with the key player picking up an electric guitar for a song Iron & Wine had written and recorded with the musicians of Calexico. As they reached the end of the song, Bird added the familiar phrase, "Baby, have you ever wondered, whatever became of me/I'm living on the air in Cincinnati, WKRP," something I've heard many artists slide into their sets in one way or another, but rarely as seamlessly as Bird did on this night.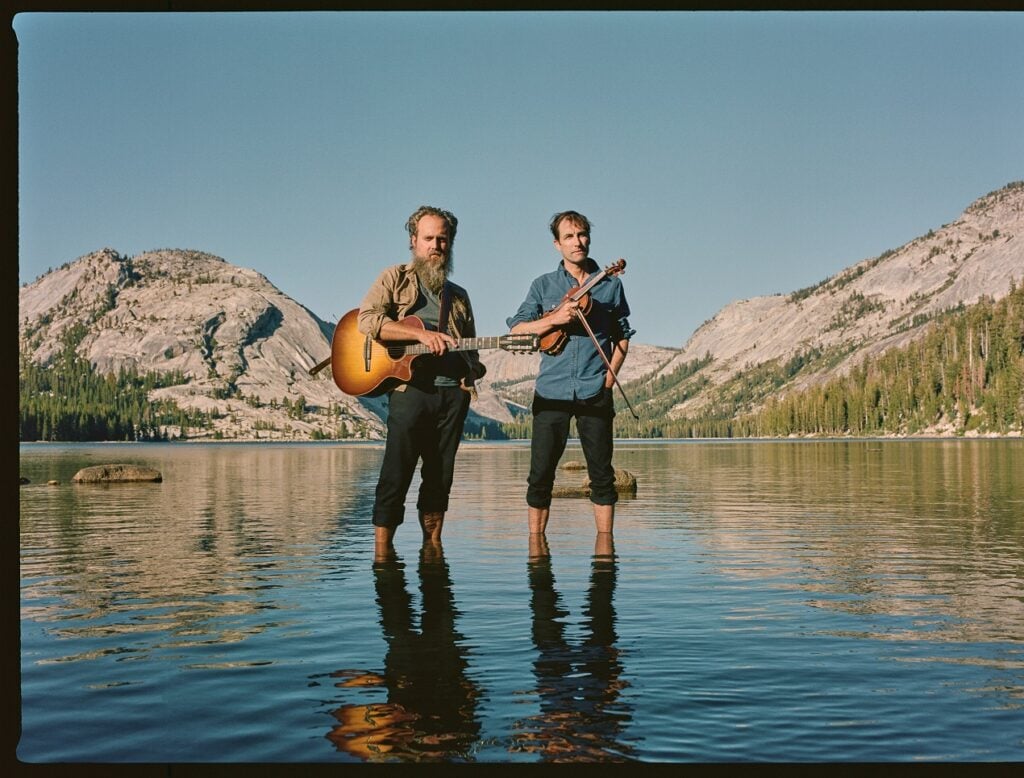 Sam Beam waved and left the stage, and Bird & Co. played the fast, fun, folk rocker, "Pulaski at Night," a 2013 song celebrating Bird's hometown of Chicago. The song included a fun, drum break with a brief solo, and some fine violin playing from Bird, and then the concert ended. No encores on this night.
Iron & Wine's solo set reminded me why I originally bought tickets when this combined tour was announced back in 2019, prior to the pandemic, and it was because Beam was going to be performing with his friends in Calexico, Joey Burns and John Convertino, and in a perfect world the rest of their backing band. Those shows were postponed at least twice and then cancelled, then relaunched this year without Calexico on the bill. Sam Beam faced the challenge of performing music from his two-decade long recording career, many of his songs supported on the albums by a full band. In that position, some folk musicians would have poured their energy into their music and let the songs do the talking, Beam went the other route, doing lots of verbal banter that wasn't nearly as funny or engaging as he seemed to think it was.
After graciously welcoming the crowd, acknowledging the many empty seats in the venue suggesting that the small crowd had room to spread out, he joked that he had limited time and thus would be playing his songs twice as fast, "so you can imagine how slow this one would be," as an intro to his cover of "Love Vigilantes," a timely anti-war song by the British band New Order. "I'm not sure, but I think New Order came out of Cincinnati," he suggest, "Yeah, pretty sure they're a Cincinnati band."
He introduced "Evening on the Ground (Lilith's Song)" with a retelling of the creation myth where Lilith was Adam's first wife, so he says, "you know, bitches." The song is actually very good, and was performed well right up until he messed up the song's punchline, saying "why do I always fuck up the best line," and then sang it right. He followed that with "Bitter Truth," calling it the "feel good hit of the year," admitting it came from an idea "I stole from Jerry Jeff Walker," the songwriter best known for "Mr. Bojangles." In an interview he heard Walker talk about those songs where you get even with someone who's hurt you in real life, and Beam pretended to write that down and stick the note in his shirt pocket for later.
Before Beam came to the stage the road crew had put about a dozen small houses made of cardboard boxes covered in white paper around stage, which were lit up in different colors to go with the songs. In a too long introduction for one of Beam's tender, quite lovely ballads, "Resurrection Fern," he described how Doris Day had been born in one of the houses in Cincinnati, and Bootsy Collins in another, and they'd met at a fictional coffeehouse and said the words of this song to each other… it made little sense. Then he played a faster, energetic folk song that I barely had time to recognize before he began to beatbox, making drum sounds with his mouth, pretty much abandoning the song to go with the drum sounds as if that was, I don't know, funny, I guess.
Then curiously, he played a genuinely pretty finger-picked song, "Each Coming Night," a song that reminded me of pop folk singers like James Taylor. He returned to his house storytelling ploy, pointing to another house where Pete Rose was born, and suggested that Bootsy was back again, singing "Big Burned Hand" to Rose, even though one of his most interesting lyrics he admitted, "had nothing to do with baseball. But maybe it does," he said. It was a schtick that Beam didn't need to support some of his very well written songs, (but he also treaded into a personal pet peeve of mine. He complained about doing his job – you know, playing guitar out doors in the summer when it's hard to keep a guitar in tune – leaving me thinking, well, you've been doing this for twenty years, you signed up for a tour called "Outdoor Problems," there's a guitar tech he keeps bringing you freshly tuned instruments, and we paid to sit her on a humid, rainy early August evening, so tell me again how difficult your life as a performer is), he could have gotten by saying a few nice, cute things and just sharing his songs with his fans. Beam closed the set with another lovely number, "Autumn Town Leaves."
I was glad to see Meshell Ndegeocello on the bill, she's listed on a handful of the "Outdoor Problems" tour lists. An African-American female bass player, Ndegeocello's music has delved into funk, jazz, reggae, and soul, she was supported by a drummer, a guitarist and keyboard player who leaned toward synthesizer sounds and swells. She opened with the Leonard Cohen song, "Suzanne," singing the lyrics over the acoustic finger-picked guitar and airy ethereal sounds of the synths, then sat down strapped on her bass and played a solo. Once associated with the neo-soul movement because of her vocal delivery, on this night her voice was almost completely buried in the mix, as her songs moved toward a darker, funkier tone as she and the band moved through a half dozen selections. A year short of three decades from her debut album, it's great to hear her still making music.
Latest posts by Brian Q. Newcomb
(see all)