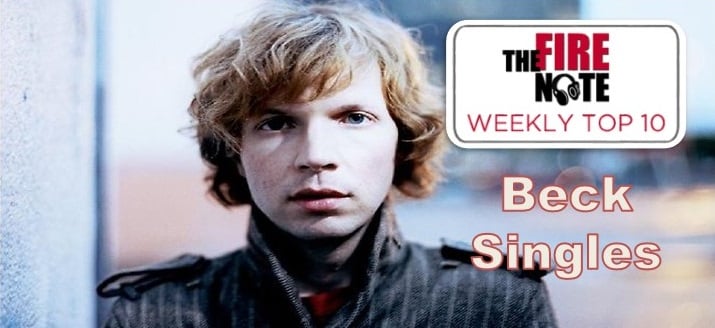 With the Headphone Approved new Beck, Morning Phase, out this week and Mellow Gold turning 20 on March 1, TFN thought it was a perfect time to spotlight Beck's singles.
The criteria used for this weekly top 10 was simple: The song had to be an officially released single and each studio record since 1994 had to be represented.
With that said, please list your favorites and make sure not to fall on a termite that's chokin' on the splinters – Enjoy!
#10

"Nausea"


The Information [2006]


"Nausea" was the first single off of 2006's The Information. Probably my least favorite record from Beck but this tune shouldn't be overlooked. It is mostly acoustic with a heavy use of various percussion and if you hear it live it comes off even more punk. Beck always can pull off the funk and "Nausea" fits the bill.
#9

"Sexx Laws"


Midnite Vultures [1999]


Speaking of funk. "Sexx Laws" has a total Beck groove. Also I totally forgot that Jack Black was in the video which just enhances the track. One of the more energetic and crazy sinlges in his collection.
#8

"Gamma Ray"


Modern Guilt [2008]


This album was hit or miss for a lot of people but I thought that "Gamma Ray" was a solid song. It was a song that sounded right for the time and still holds strong today. Also the single had a cover version of the track by the late Jay Reatard which was great and highlighted its surf undertones.
#7

"E-Pro"


Guero [2005]


I have always liked how hard this track hits right from the beginning. You can also listen for the Beastie Boys' "So What'cha Want" which is used as a sample. Produced by the Dust Brothers, this track sounded like it could have landed on Odelay which is never a bad thing.
#6

"Blue Moon"


Morning Phase [2014]


"I am so tired of being alone" is the first line delivered off Beck's first new single in eight years. Off his excellent new Headphone Approved Morning Phase record this song brings back the warm 70's acoustic Beck which goes a long way!
#5

"Devil's Haircut"


Odelay [1996]


The sample driven "Devil's Haircut" is a highlight on Beck's classic Odelay. The song has grooves, some weird transitions that shouldn't work but do and concludes with Beck's distorted screaming. What is not to love? Also the video with cowboy Beck and a boombox in New York is icing on the cake.
#4

"Tropicalia"


Mutations [1998]


Beck's songs over the years have had plenty of South American influence but on "Tropicalia" the samba party comes right to your speakers. Over the years, this track has grown on me and overtook "Nobody's Fault But My Own" as my favorite from Mutations.
#3

"Loser"


Mellow Gold [1994]


"I'm a loser baby, so why don't you kill me?" If you were around for this track in 1994 I guarantee you have sung the chorus. When MTV still mattered and alternative nation was taking off, Beck brought everyone "Loser" which was the perfect anthem for the time and generation. Clearly, if I had more room in this list "Pay No Mind (Snoozer)" and "Beercan" would have a reserved spot on the list.
#2

"Where It's At"


Odelay [1996]


Odelay is such a great album and all of the singles are solid. "Where It's At" still stands the tallest for me with the way it is pieced together. You get Beck laying down the lyrics, the hip-hop type chorus and then add some horns and samples to the mix. Great song!
#1

"Lost Cause"


Sea Change [2002]


Acoustic Beck never gets old and Sea Change is a classic in his catalog. Not only is this song completely raw but it showed a side of Beck that nobody at the time knew was there. That combination is powerful and for every great upbeat single he has released, this song is just so real and worthy of the #1 spot!

-Feature by Christopher Anthony
Latest posts by Fire Note Staff
(see all)